Liverpool
'Go and get us a goal!' - Origi reveals what Klopp told him before derby winner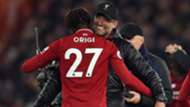 The smile said it all.
Divock Origi must have wondered if this kind of feeling would ever return. A Liverpool match-winner, a derby hero, a buzz of adrenaline like no other.
How do you put that into words?
It had been 19 months since the Belgian had scored a competitive goal for the Reds, 20 since he had netted at Anfield. He hadn't played a single minute in the Premier League since August 2017, spending last season on loan with Wolfsburg in the Bundesliga. Had he wished, he could have joined Wolverhampton Wanderers on a permanent basis in the summer; Liverpool were willing to sell.
Instead, there he was, pouncing in front of the Kop. Everton's loss, Jordan Pickford's loss was Origi's gain. The forgotten man? Not any more. His 96th minute winner will never be forgotten. It will go down in derby folklore, for sure.
Afterwards, in the Anfield mixed zone, Origi stopped to chat to reporters. It's been a while since the 23-year-old was so in demand. Football, eh?
"It was special," he reflected. "Always with a derby it is a good feeling to win, and especially to keep our stride going and score the goal is special, I am happy.
"I always just try to focus on what I can control and that was just training well and shining my light. I just to try to play my game, whatever role it is. It's on the pitch you have to do your talking and it is the coach who makes the decisions so the best I can do is show my best form. Whatever minutes I got, I had to make the most of. Thank God it turned out well!"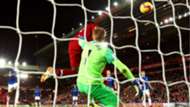 Origi had entered the field with just six minutes remaining, the final roll of the dice from Jurgen Klopp as the game petered towards a 0-0 draw.
His instructions? "Go and get us a goal, Divock."
"Basically!" the striker revealed. "He said to just to play my game and playing like I was training," 
"I was feeling good, I kept in shape so in the end, I could do that and it turned out well."
Still, it could have been so different. Origi could have been forgiven for wondering if his big opportunity had been and gone when he smashed a close-range effort against the frame of Pickford's goal three minutes from the end of the 90. On another day, we may have been watching replays of that miss instead of what followed a few moments later.
"I think was like a trap for a striker," he admitted. "You miss a chance and you keep dwelling on it.
"But for me, instantly, it was like you could see my reaction was 'no, I just have to focus, chill, play my game and see whatever happens' and thankfully the big man [Virgil van Dijk] had another effort and I could tap it in so I'm happy.
"It was a crucial goal, one of the most crucial I have scored for Liverpool so it was special, you could see the emotion of the fans and the coach and the players so we celebrated all together. It is a good day for Liverpool."
Van Dijk, meanwhile, was able to reflect on the most unlikely of assists. It was the Dutchman's miscued volley which Pickford misjudged, the ball bouncing twice against the crossbar before falling to Origi. Handy points for anybody who picked the centre-back in their Fantasy Football team.
"I'm not claiming anything!" smiled the £75 million man, who would later poke fun at himself on Twitter over the assist.
"If you look at the footage, I thought 'What am I doing?' first! I'm a defender so sometimes you need to think a little bit more as a striker when you are up there.
"But in the end it was fantastic it goes in like that. I think he should have scored the one before when I headed it to him. I told him but, you know, it's a special feeling to win the derby in the last minute."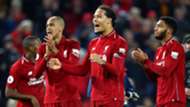 Not only that, of course. The win keeps Liverpool within touching distance of Premier League leaders Manchester City. The two clubs are separated by just two points, with a five-point gap to third-placed Chelsea. It is starting to look suspiciously like a two-horse race.
"We need to look at ourselves," Van Dijk insisted. "We have no need to look at City. We try to win all our games, that's how we go into every game, and that's the only way forward.
"Pressure is always at the club. That is a good thing. The season is very long. It is good to stay close to them but to win our games is the most important thing.
"We need to keep doing what we are doing, keep improving, and keep winning games – hopefully with good football."
For now it is time to smile for Liverpool. The celebrations which greeted Origi's goal, and the final blast of referee Craig Kavanagh's whistle, told their own tale. Fans love a last-minute winner in any game, let alone the derby.
"I do as well!" grinned Van Dijk.