Ligi kuu Bara
Giants Simba SC and Yanga SC likely to renew rivalry in Mapinduzi Cup
12:09 PM GMT+4
06/01/2020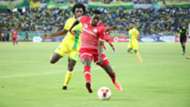 There are all signs Dar es Salaam giants; Simba SC, Young Africans (Yanga SC) and Azam FC will renew their rivalry as the 13th edition of the Mapinduzi Cup kicks-off at Amaan Stadium on Monday.
The Dar es Salaam trio and Mtibwa Sugar from Morogoro have been included in this year's Mapinduzi Cup fixture joining four others from Isles.
The tournaments' defending champions Azam open their defence of the crown by facing Mlandege at Amaan Stadium while Mtibwa Sugar will be in Pemba to face Chipukizi at Gombani Stadium this evening.
Yanga, who forced a 2-2 draw with their traditional rivals Simba will be on the pitch on Tuesday to lock horns with Jamhuri of Pemba at Amaan Stadium, while Simba are pitted against Zimamoto in a match to be staged on Tuesday at Gombani Stadium in Pemba.
According to Daily News, the match between Yanga and Jamhuri will be staged under floodlights. Unlike in the past events, this year's tournament will be played on a knockout basis.
Two venues; Gombani Stadium in Pemba and Amaan Stadium in Zanzibar have been picked to host the 13th edition of the Mapinduzi Cup, according to the organisers Zanzibar Football Federation (ZFF). The eight-team tournament has pooled teams into two groups.
Group A consists of Yanga, Azam, Mlandege and Jamhuri and their matches will be staged at Amaan Stadium. Simba are pooled in Group B alongside Mtibwa Sugar, Zimamoto and Chipukizi. This year's tournaments will be part of the events to mark the Zanzibar Revolution staged on January 12, 1964.
Azam won the 12th edition after beating Simba 2-1 in the finals held at Gombani Stadium in Pemba. The final match of this year's tournament according to ZFA will be staged on January 13 at Amaan Stadium in Zanzibar.