Premier League
Ghana Premier League players depend on 'betting to survive'
12:30 PM GMT+4
27/08/2017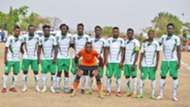 Bolga All Stars captain Yusif Goma has revealed that he depends on football betting to survive due to unpaid salaries in the Ghana Premier League.
The 25-year-old believes he has no other means to raise funds rather than placing his little amount left on European clubs and hope they bring him success.
"I depend on football betting to survive. I bet on European games most often because it hasn't been easy for me and my teammates despite playing in the Ghana Premier League to earn a decent living," Goma told Adehye FM.
"Bolga All Stars have not paid us our monthly salaries for a long time. We've been paid only two months salaries throughout this season, so we have to look for other avenues to raise something for our upkeep. This is why we've been left with just 12 players for the remaining games in the league," he added.
The league debutants have been able to pick only two victories after 24 games and will travel to Kumasi on Sunday to lock horns with Asante Kotoko but Goma is optimistic they will pick at least a point.
"We'll not disrespect Kotoko but we will also not disgrace ourselves in Kumasi," he said.
"We're aware that we'll be relegated but we want to bow out of the competition on a high note therefore a point in Kumasi will be enough for us. We are travelling with only 12 players and our coach has resigned but we want to make a name for ourselves because we don't know who will be watching us from afar," he added.
Bolga sit at the bottom on the log with only 12 points, 17 points below safety.