GFA elections: Churchill Alemao willing to contest for less than a year in office?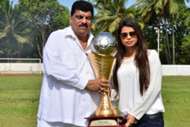 The Goa Football Association (GFA) is set to hold its elections as the four-year term of the current office bearers comes to an end. The elections that were initially slated for July 29, however, are expected to be indefinitely postponed until implementation of the National Sports Code.
The Goan FA claims that a directive from the All India Football Federation (AIFF) to incorporate the Sports Code forced the delay. Elvis Gomes, current GFA President, told Goal, "These are the directives that have come from the federation. That is why we have decided to do it once and for all.
"Sports Minister Mr. (Rajyavardhan Singh) Rathore has instructed the Chief Ministers of all the states and Union Territory administrators that the Sports Code has to be implemented. In the light of all this, the options before me is to just hold the elections and go or to set this right (ensure the implementation of the sports code) so that the situation gets corrected in the long term," he added.
"We have never said that we are not holding elections but we want to incorporate the changes that the Sports Code has directed to our constitution before holding the elections. These are reforms that are very much needed because the public interest is involved. Otherwise, I can personally vacate the office tomorrow itself and go," Gomes clarified his stand on the controversy surrounding the GFA elections.
On the other hand, Churchill Alemao, who owns Churchill Brothers and has announced his candidature for the post of President, claims that the GFA are postponing the elections only to delay him from coming into power.
"I have come forward because they (GFA) have not done anything so far. But they are not allowing the elections to happen. I have got a lot of backing from many clubs. That is why they are delaying the elections," he alleged.
Interestingly, a mandate in the Sports Code bars those who have attained the age of 70 from holding a post in office. Alemao is 69-years-old and if the Sports Code is implemented, he can hold office for less than a year.
Avertano Furtado, who is in his 50s, will also be contesting the elections, if and when they happen. Gomes said that he would have stood for the elections himself to fight Alemao if Furtado had not come forth. 
"If it was only Churchill contesting the elections, I would have stood to give a fight. But Avertano has informed me of his candidature. So I feel there shouldn't be too many people," Gomes continued.
"That is the fundamental principle - People who have attained the age of 70 cannot be office bearers. But Churchill claims that it is done to put him out. In fact, if that is the case, I have not initiated it but the AIFF."