Premier League
Fourteen points behind but Conte says Man Utd are still in title race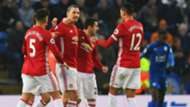 Antonio Conte has insisted that Manchester United are still in the title race despite being 14 points behind Chelsea.
The Red Devils are currently on a run of 15 matches unbeaten in the Premier League but remain in sixth place in the table, two points behind fourth-placed Arsenal.
Only Ronaldo compares to Zlatan
The Blues, meanwhile, have raced ahead in top spot in the table, with their convincing 3-1 win over the Gunners meaning they are nine points clear of Tottenham in second.
But Conte does not think that Jose Mourinho's side are out of the running to win the title, despite being so far behind with only 14 games remaining.
He told reporters: "Honestly, I think there are six really strong teams that can fight to win the title, and we must know this.
"If we think we are very close to winning the title because we have nine points [ahead of their rivals], this is a great mistake."
Conte was also asked about Eden Hazard's form, with the winger scoring a superb solo goal in the win over Arsenal, and whether he can put a value on the Belgian sensation.
He added: "I'm not very good at putting prices on players. I think Eden is a great player, a top player, at a very high level."
Mata: We must embrace pressure
Willian, meanwhile, admitted on Thursday that Jose Mourinho and Manchester United had made enquiries over signing him in the summer.
The Blues boss insists he has not seen the quotes, however, and played down the story.
He said: "I don't know about this. For me it's not important. Only be focused on the present."