Africa Cup of Nations Qualification
Former FKF boss Sam Nyamweya supports USA, Mexico and Canada 2026 World Cup victory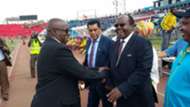 Former Football Kenya Federation boss Sam Nyamweya has welcomed USA, Mexico and Canada victories as the next hosts for the 2026 Fifa World Cup.
The three nations beat a single bid fronted by Morocco and Nyamweya argues that the continent should consider fronting a joint bid in future if Africa is to stand a chance of bringing the World Cup for the second time.
South Africa remains the only African country to have hosted the event in 2010.
"It is unfortunate that Morocco was representing a bid for Africa but their loss should also be a learning experience. Africa should in future present a joint bid and prove they are ready to meet the required standards," said Nyamweya in a statement.
"Personally, if I were to be among the voters, I would have voted for the joint bid of the North American nations because of their infrastructure.
"USA, Mexico and Canada have proved they were worthy candidates and deserving winners to win the hosting rights for the championships due to the kind of infrastructure they have in place. FIFA will not have a difficult time having to monitor preparations for the 2026 competition.
In a letter addressed to Fifa president Giovanni Infantino, Nyamweya appealed to the Fifa boss to put African FA chiefs on toes to deliver on his promise during the last election.
"It is my hope that your office will ensure that those tasked with the management of the game in Africa ensure they match your dream to see the game grow in this continent."