Friendlies
Former FKF boss Sam Nyamweya hails the late 'legend' Henri Michel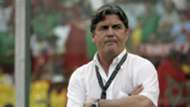 Sam Nyamweya has hailed the late Henri Michel as a 'true legend' of the game following the demise of the former Harambee Stars coach.
Michel died on Tuesday after a long battle with cancer and Nyamweya, under whose reign Michel served as the Harambee Stars boss for four months, praised the late coach whom he described as an 'ambassador of the game'.
"In his death, world football has lost a true legend of the game, a great coach and an ambassador of the game.
"Michel was a great coach, who has left a mark in most of the countries he has worked in," Nyamweya said in a statement obtained by Goal.
While Nyamweya personally scouted for the services of Michel, the short stay of the Frenchman ended in a court battle after he moved to Fifa Court of Arbitration to demand for unpaid dues.
"While unfortunately, he did not stay as our coach for the duration he was expected, we appreciate what he did for us and the honour he gave us by accepting to come and coach the Harambee Stars."
Michel was eventually awarded Sh4.5 million by Fifa in damages.