Transfers
'For me, football is in Europe' - Cassano not interested in China switch
Antonio Cassano is willing to resist the lure of big money in China and continue searching for a new club in Europe.
The 34-year-old has become a free agent after being released from his contract at Sampdoria.
Mourinho snubbed 'big' CSL offer
With no ties, the former Italy international does not need to concern himself with pushing through a deal prior to the closure of the winter transfer window.
He is, however, eager to make a fresh start as soon as possible.
A player of his profile would probably have little difficulty finding a taker in Asia, but Cassano suggests he has already spurned advances from the Chinese Super League as he remains focused on turning out at the most competitive level possible.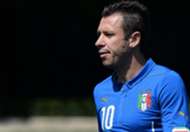 He told Mediaset: "For me, football is Europe.
"Football is a serious thing. Everybody says they are going to China because they are attracted by the project, but they are not telling the truth - they are going for the money.
"Football is competition, it is about measuring yourself with the best and then the money is secondary. Of course I'm well off and it's easier for me to say no [to China], but I'm definitely not going over there because I am attracted by any project.
"I definitely want to keep playing and enjoying myself. After my family, the most important thing for me in life is football. I love it and if there is an opportunity, I want to be enthusiastic and happy about it."
Cassano has spent over 17 years at the top of his chosen profession, turning out for Bari, Roma, Real Madrid, Milan, Inter, Parma and Sampdoria.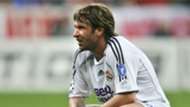 He has also earned 39 caps for Italy, while netting over 100 goals for club and country combined.
It has been a varied and colourful career for a man tipped in his younger years to become a global superstar, but he insists he has only one regret.
Pato completes switch to China
Cassano added: "I've had a good career and I don't know if I could have done any more than I have.
"There's no room for 'ifs' in football. I had six years on my contract in (Real) Madrid and I left after just a year because I was a crazy fool. But that's the way I am, and that is my biggest regret.
"But then I moved to Sampdoria and got to know my wife. She changed everything. I have two magnificent children and an amazing wife."