Africa Cup of Nations
FKF now accuse Paul Put of lying to Kenyans on Harambee Stars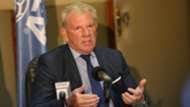 Football Kenya Federation have moved to defend themselves from accusations that they push for weak friendlies for Harambee Stars.
The statement was openly revealed by former coach Paul Put, who confirmed that he had seen his efforts to organize two friendly matches against Algeria and Luxembourg, turned down by federation President Nick Mwendwa.
In an interview with a local daily, Put, who resigned as Kenyan coach mid last month, said the FKF boss argued that the friendly matches were too strong for Kenya to handle.
"I was requested to have Kenya play in Algeria by the President of USM Algier, who is also the vice president of the country's federation. He told me he could invite us to play Algeria and they would pay everything for all 32 people.
"I sent him mail suggesting 44 people, and he agreed everything and signed, then I gave the proposal to FKF President (Mwendwa) but he was afraid that they would be too strong for us, saying we look for other opponents.
"I contacted another agent, who contacted Luxembourg that were to pay for everything. For me, friendlies are not about winning but to help me see my team's weaknesses and to learn, I had those options but they were rejected. If you are to prepare for a team like Ghana, you need strong opposition."
FKF through Media Officer Barry Otieno have now accused the Belgian coach of trying to make money out of friendly matches for Harambee Stars. "He (Put) wanted the federation to organize all national team friendlies through his agent, a Mr. Abraham Sidibe at a cost of USD 30,000 (Sh3m) per match.
"The proposal was not agreed to as it was deemed to be expensive and of no value since the federation had already established contacts with most Football Associations thus capable of organizing friendlies without having to pay the USD 30,000 to a match agent that is not accredited by Fifa," revealed Otieno in a statement obtained by Goal.
The former Gambia and Burkina Faso coach quit the Kenyan job in a huff after his demands to have a backroom staff from abroad was turned down by FKF. He has already been appointed to head Guinea.
Put was appointed as Stars coach on November 18 last year during the FKF Annual General Meeting in Mombasa and led Kenya to the 2018 Cecafa Senior Challenge title after beating Zanzibar in the final.