Mexico
Five Mexico players who should get their first El Tri cap under Juan Carlos Osorio
One of Mexico coach Juan Carlos Osorio's first orders of business in 2017 is to put together a squad to face Iceland in a friendly. With the match falling outside a FIFA date, the group will be domestic-based. To add to the fun, Club America is playing Chiapas during the window, making it that much tougher to get a 23-man group together. It's still a chance for Osorio to have players in training and start to introduce them to the international game.
Five Things we learned from Liga MX Round 4
The game also will help Osorio build a squad for the Gold Cup. With Mexico also contesting the Confederations Cup this summer, Osorio will send a group made up mostly of players not included in the strongest team. Getting these uncapped players into the rotation now could pay off at the continental championship this summer:
---
ALAN MENDOZA, Pumas LB
---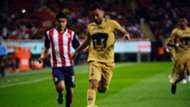 Mendoza is far from the finished product, but the Pumas homegrown player has made coach Paco Palencia's decision to give him the starting left back job look like a good one. Mendoza gets involved in the attack, and not only in the traditional understanding of a fullback charging up the line and putting in a cross - though he can do that with his left foot. Mendoza also can weave inside to find the playmaker or a second striker with a longer pass.
After Miguel Layun, the depth at Mexico's left back spot drops off. Mendoza still needs to boost the defensive element of his game, but at just 23 he could benefit from some time with Juan Carlos Osorio and his staff. If he becomes serviceable as a No. 1 option, Osorio could use Layun at one of the other spots where he's enjoyed playing the versatile Porto star.
---
EDSON ALVAREZ, America CB
---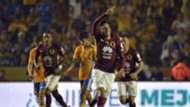 This one is pretty much a no-brainer and already is confirmed with reports from Mexico City on Monday that Alvarez will be given permission to play by Club America (America's opening-round game with Chiapas was postponed to the week of the Iceland match to ease fixture congestion). The 19-year-old center back was thrown into the fire by Aguilas boss Ricardo La Volpe and has come out a more refined player after dealing with the challenge of the Club World Cup and the Liguilla. Alvarez can play with the ball at his feet and start the play from the back and is an adequate defender, though physical forwards have given him trouble.
Mexico's center back pairing of the future (or at least of Russia 2018) of Hector Moreno and Diego Reyes hasn't always looked sure, with Reyes struggling for minutes in Europe and at times being deployed in midfield. Rafa Marquez might well make it to the World Cup, but it'd be preferable to have someone with a bit more pep in his step. Getting Alvarez experience and doing it as soon as possible could be critical toward developing another prospect that would profile nicely next to Moreno.
---
JESUS SANCHEZ, Chivas RB
---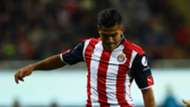 As Paul Aguilar continues to recover from injury, right back is a spot where Mexico has had plenty of questions. While the oldest on this list, at 27, "Chapo" Sanchez could be an option now, not just for the future. His goal this weekend put his first touch and finishing abilities in the shop window, and there's no reason to think that midfielder and club teammate Orbelin Pineda couldn't deliver a few of those passes wearing the green shirt of the national team instead of the red-and-white stripes of Chivas.
Sanchez deals with quick wingers on a nearly weekly basis in Liga MX and defends well enough to earn a spot on this summer's Gold Cup team if Osorio doesn't find his level to the quality of his top side. But as the previous pair of World Cup qualifiers showed, right back is a position where depth options can't really be ignored.
---
GIBRAN LAJUD, Tijuana GK
---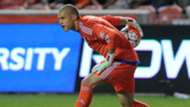 Mexico's goalkeepers aren't getting any younger. Guillermo Ochoa and Alfredo Talavera may be in their primes at 31 and 34, but it's time to start bringing up the new No. 1. That player could be Tijuana goalkeeper Gilbran Lajud. Taking over as Tijuana's first choice this season, Lajud has benefited from an experienced back line in front of him. Still, the qualities that earned him a spot on Mexico's Olympic team, only for Talavera to be called as one of the over-age replacements, are the same ones that led Miguel Herrera to hand him the starting job at Tijuana despite his youth.
This isn't a call for Lajud to start over Tala or Jesus Corona, but it is one to integrate a young goalkeeper into the fold rather than using that third spot that will go unused on some over-30 goalkeeper who is more likely to be back in Vegas in 2018 or 2022 instead of on a World Cup roster. 
---
CESAR MONTES, Monterrey CB
---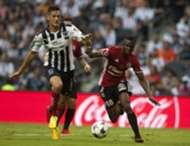 It hasn't been an exceptional start to the Clausura for Monterrey's back line, and that extends to Montes. Rayados have been beaten too often, especially in the air. While Montes does get some blame for that, and really should be excelling in the air, he's also shown flashes of the potential he has. It's that potential that caused Antonio Mohamed to rely on him when the center back was just 18 years old and "Potro" Gutierrez to use him during this summer's Olympics.
Like the aforementioned Alvarez, he's 19, he's a center back and he can play out of the back with strong passing. That combination of youth and skill is one that Osorio won't want to ignore. This match against Iceland may provide the perfect opportunity.