Malaysia Cup
Figueroa dedicates win to Marquez, excited for Pahang derby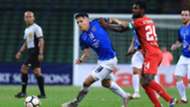 Having already played each other in the FA Cup this season, Johor Darul Ta'zim and Pahang can not be separated once more as the the two teams will now face each other in the Malaysia Cup quartefinal after JDT's triumphant 0-3 win over MIFA on Sunday.
While JDT have emerged victorious in the two Super League matches against Pahang this season, they have come unstuck against The Elephants in the FA Cup, drawing the away match before losing at home.
For several seasons now, the rivalry between the two teams makes their matches one of the most anticipated in the entire Malaysian football calendar and the fans will now get another serving of it. For team manager Luciano Figueroa who has experienced those situations before as a player, he shares the same excitement.
"It's a derby. This game is a game derby. It was always tough game against them but we are ready and we will play our football," said Figueroa in the post match press conference after the win over MIFA.
After a difficult first half where JDT controlled most of the play but couldn't find the breakthrough, it finally came in the second half but one man had to suffer for it. Striker Fernando Marquez suffered a broken nose in a collision that led to JDT being awarded a penalty and had to be rushed straight to the hospital for treatment.
Gonzalo Cabrera scored that penalty before Safawi Rasid added a brace of his own to make it a comprehensive win for the away. A win which took them from third in Group C to top of the table in the final reckoning, at the same time knocking their opponents out of the competition.
Figueroa was adamant that his team had one particular player to thank for the win and it was none other than Marquez.
"We played good football. I have to say congratulations to the players. He's (Marquez) okay. He broke his nose but he's good now. We will see now if he will go back with us or wait one night here." 
"I have to say congratulations to him also because he leave his life on the field and he's very important for us. He gave 120% on the field and this three points is for him also," added Figueroa.