FFA Cup
FFA Cup final magic a reminder of what Australian football is capable of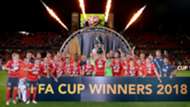 A bumper and very vocal 14,448 crowd. Two quality teams going at it. Not a cloud in the sky. No VAR in sight. And the obligatory streaker. 
The 2018 FFA Cup final between Adelaide United and Sydney FC was a night to savour and the perfect reminder of what Australian football is capable of.
As the A-League struggles with the controversies of VAR, the FFA Cup decider delivered drama in all the right ways as the Reds claimed a 2-1 win.
From a colourful, capacity crowd that never stopped singing, to Craig Goodwin scoring two stunners against the side that wanted to sign him - the final was a ferocious, frantic affair that kept even the most neutral of fans entertained.
Coopers Stadium was the perfect spot for an unforgettable night of football with the boutique football venue proving that a close-quarters, capacity crowd can do so much more than a half-empty ANZ.
Despite being a rematch of last year's final and the fact these two sides played each other just a fortnight ago, the Reds and Sky Blues made for ideal opponents. 
Buoyed by their home crowd, Adelaide never took their foot off the gas as they incessantly got in Sydney's face and got the best side over the past two years shaking. 
That's not to say the Sky Blues played badly either, they just weren't afforded the space they were used to making for a far more interesting encounter.
With the Socceroos in his sights, Goodwin stepped up and delivered with two stunning moments in front of goal as he showed why Sydney wanted him over the off-season. 
As tempers threatened to boil over a number of times on the pitch, credit must also be given to referee Jarred Gillett who commanded the game well without the need of any possible VAR calls looming over his head.
The icing on a very fine cake then delivered in the form of a streaker making an absolute fool of himself.
— Leo James 📲⚽️ (@realLeoJames) October 30, 2018
The magic of the cup is as real as it's ever been and it's something Australian football needs to harness sooner rather than later.