NPFL
FC Ifeanyi Ubah vs Gombe United referee withdrawn
12:00 AM GMT+4
26/07/2017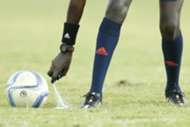 The man at the centre of FC Ifeanyi Ubah's home draw against Gombe United, Sam Agba, has been withdrawn from the Nigeria Professional Football League.
The referee made a controversial late call at the Ifeanyi Ubah International Stadium on Sunday which prevented Gombe from securing a valuable away victory.
Agba was axed alongside his assistants Emmanuel Udoh and Felagha Awudola .
Referee Umar Mohammed who was in charge of Week 29 game between Niger Tornadoes and Plateau United suffered the same fate, as well as Aliyu Abdullahi and Saleh Mohammed 
LMC, in its review of performance of match officials, has expressed dissatisfaction with #NPFL Matchdays 29, 30 & 31 referees

— League Management NG (@LMCNPFL) July 25, 2017
LMC therefore requests #NPFL refs in Tornadoes vs Plateau Utd; Katsina Utd vs Pillars; Plateau Utd vs FCIU; FCIU vs Gombe Utd be withdrawn

— League Management NG (@LMCNPFL) July 25, 2017
Refs listed for withdrawal
MD 29 - #TORPLA Umar Mohammed
MD 30 - #KATPIL Aliyu Abdullahi & #PLAIFE Saleh Mohammed
MD 31 - #IFEGOM Sam Agba

— League Management NG (@LMCNPFL) July 25, 2017
Asst refs listed for withdrawal
Matchday 31 - #IFEGOM
AR1 Emmanuel Udoh
AR2 Felagha Awudola

— League Management NG (@LMCNPFL) July 25, 2017
The listed referees failed to meet up with the high standard expected in the #NPFL & made decisions which were obviously wrong.

— League Management NG (@LMCNPFL) July 25, 2017
LMC has requested that the listed referees be withdrawn from #NPFL matches pending a full investigation into their performances.

— League Management NG (@LMCNPFL) July 25, 2017