Gaming
Fantasy Football: Manchester City dominate Premier League Team of the Week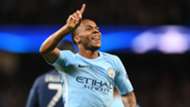 Another round of Premier League action is in the books and there are now, somehow, just three match weeks left. The most Fantasy relevant result was Manchester City's dominating 5-0 win against Swansea, which may have come as a surprise to those that thought Pep Guardiola's side would step off the gas with the title already won. In fact, the champions landed four entrants in our Goal Team of the Week.

GK: Wayne Hennessey - Crystal Palace - 1 Game, 5 Saves, 1 Clean Sheet = 9 Points
DF: Danilo - Manchester City - 1 Game, 1 Assist, 1 Clean Sheet = 10 Points
The Brazilian has certainly not had the season he expected when he joined Manchester City last summer. Despite his big fee in the summer, Danilo has only managed 12 Premier League starts this season, and City have kept clean sheets in just two of them, including Sunday's win. Winning the Premier League and Carabao Cup in your first season is an enviable return, but there's little Fantasy value here.
DF: Nacho Monreal - Arsenal - 1 Game, 1 Goal, 1 Goal Conceded = 8 Points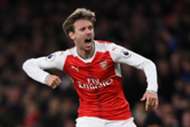 DF: Vincent Kompany - Manchester City - 1 Game, 1 Clean Sheet = 7 Points
MF: Raheem Sterling - Manchester City - 1 Game, 1 Goal, 1 Assist = 11 Points
Which Manchester City player do you think has the most points in the Goal game this season? Sterling. In fact, the only player with more across the league is Mohamed Salah. The English winger is in blistering from right now as well, having racked up three goals and four assists in the last five matches. Rotation is a risk for any Pep Guardiola player but, considering City's remaining fixtures, Sterling is a fantastic option for the rest of the year.
MF: Aaron Ramsey - Arsenal - 1 Game, 1 Goal, 1 Assist = 11 Points
MF: Kevin De Bruyne - Manchester City - 1 Game, 1 Goal = 8 Points
MF: Mo Salah - Liverpool - 1 Game, 1 Goal = 8 Points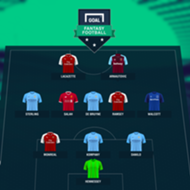 Unsurprisingly, Salah has made the Team of the Week again. That's not the only accolade he's received this week as he also won the PFA Player of the Year award on Sunday night, capping off a fantastic debut season at Liverpool. There are some that are leaning away from the Egyptian in Fantasy as he has he has just three remaining matches but, if we've learned anything this season, it's been to not bet against Mo Salah.
MF: Theo Walcott - Everton - 1 Game, 1 Goal = 8 Points
FWD: Alexandre Lacazette - Arsenal - 1 Game, 2 Goals = 12 Points
He sure left it late, but he ended up having a fantastic Fantasy day for those that, like Wenger, gave him the nod over Pierre-Emerick Aubameyang. Lacazette's brace was a welcome sight for Arsenal fans who had been waiting to see this type of performance from the Frenchman for months. The last time the forward managed this many points was in September and with two top five defences still on the schedule, it's hard to promote Lacazette as a meaningful Fantasy asset at this point.
FWD: Marko Arnautovic - West Ham - 1 Game, 1 Goal = 7 Points