Singapore
Fandi vows to fight on against Thailand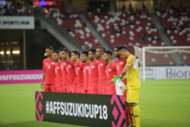 After his team recorded a 6-1 win over Timor Leste Fandi Ahmad has already shifted his gaze towards the crucial match against Thailand.
Fandi has vowed to fight on against Thailand and is not looking to depend on any favours from other teams to qualify for the semi-finals.
"We want to stay healthy and positive. There's always three points up for grabs and we don't want to depend on Indonesia," said the 56 year-old.
"It's about time we fight for our lives. We will enter the tie as underdogs but I believe we can surprise."
On the other Safuwan Baharudin who scored a hat-trick against Timor Leste was asked if set-pieces were practiced regularly in training, as the Lions' main source of goals against the Timorese came from set-pieces.
"Coach emphasised a lot on set-pieces in training and as you can see today it showed as Timor Leste were compact and we unlocked them through set-pieces," mentioned the hat-trick hero.
"However moving forward we must try to score more from open play as we can't just depend on set-piece routines to score."