Women's World Cup
EXTRA TIME: Watch Thembi Kgatlana's family celebrate Banyana Banyana's first World Cup goal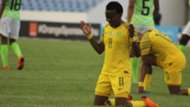 Banyana Banyana made their debut in the Women's World Cup, losing to Spain 3-1 in their opening game on Saturday.
The game started like a dream come true when African Player of the Year, South Africa's Thembi Kgatlana curled a brilliant strike from outside the area in the 25th minute.
Unfortunately Banyana went on to lose the game 3-1, giving away two penalties on their way to going down to the Europeans.
Nevertheless, this was a fantastic occasion for the nation of South Africa, witnessing the ladies soccer team make history.
Kgatlana made history of her own, scoring Banyana's first ever goal in a Women's World Cup and you can see how much it means with the wonderful video of her family celebrating the goal at home in South Africa.
We've collected a number of other beautiful moments, such as when the South Africa national anthem was played and the moment Banyana came onto the field.
We also take a look at their changeroom. There's a special message from the Springboks rugby team, wishing Banyana well in the tournament too.
We start with a message from star player Janine Van Wyk on the highs and lows of their opening game against Spain.
Wow what a game full of emotions. We honestly played our hearts out in our first ever @FIFAWWC . I bet we had the whole 🇿🇦 off their seats with @Kgatlanathe1st spectacular goal. Tough loss for us but we will continue to battle in the next. Thanks for all the support 🇿🇦🤗

— Janine Van Wyk (@Janinevanwyk5) June 8, 2019
Family of Thembi Kgatlana @Kgatlanathe1st celebrates first goal in the @FIFAWWC #DareToShine #ESPRSA #SAFA #FRUNNEWS pic.twitter.com/3DT5oE13vC

— Front Runner (@FRUN_NEWS) June 8, 2019
The moment #RSA has been waiting for, the national anthem being sang at a @FIFAWWC #DareToShine #BanyanaBanyana pic.twitter.com/YsTC1txUcI

— Banyana_Banyana (@Banyana_Banyana) June 8, 2019
To @Banyana_Banyana and @SAFA_net - good luck at the #FIFAWWC from the #Springboks . pic.twitter.com/IwIBdlEASC

— Springboks (@Springboks) June 8, 2019
Sneak preview of the @Banyana_Banyana dressing room ahead of the all important clash against Spain tonight at 6 at Stade Oceané in Le Havre #DareToShine #BanyanaBanyana #fifawwc @Banyana_Banyana @BafanaBafana @FIFAWWC #RSA pic.twitter.com/VSJeFBBGqa

— Banyana_Banyana (@Banyana_Banyana) June 8, 2019
The #Limitless story of @banyana_banyana is one that the entire nation of South Africa has followed with close eyes 👀⚽️ @SasolSA #FIFAWWC pic.twitter.com/dEdkSXVJWZ

— SuperSport🏏 (@SuperSportTV) June 7, 2019
An unprecedented moment in the history of South African football 🇿🇦⚽️ @Banyana_Banyana step out onto the grass at the FIFA Women's World Cup for the first time ever, a significant moment that will be remembered for a very long time 👏 #SAHeroics #FIFAWWC pic.twitter.com/0cXD8P326I

— SuperSport🏏 (@SuperSportTV) June 8, 2019
History in the making as @Banyana_Banyana walk out for their first ever match in the @FIFAWWC #DareToShine #fifawwc #BanyanaBanyana #LeMomentDeBriller @SAFA_net @bafana_bafana #RSA pic.twitter.com/9sO3jQDjxs

— Banyana_Banyana (@Banyana_Banyana) June 8, 2019