PSL
EXTRA TIME: The Cape Town City beard challenge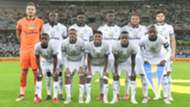 Cape Town City's the MTN8 Cup champions but they're already knocked out of the Telkom KO Cup.
That explains their innovative idea with this beard challenge on Twitter. At first it might sound restrictive, but once you tuck into it, this is quite a funny series of interactive photos between the PSL club and their fan base. 
We'd like to think that some of those beard photos are not real.
Nazooo pic.twitter.com/fUcisOW7rQ

— Vus'umzi Tokota (@SanaMavu) October 29, 2018
Keep on winning guys pic.twitter.com/pjaAGc9CWN

— REUBEN (@reuben_tshose) October 29, 2018
#CityBeardChallenge pic.twitter.com/XXmCigfgr2

— _Bee_ (@Tea_Bee15) October 29, 2018
October 29, 2018
Still want some more sauce?? Here you go... #CityBeardChallenge pic.twitter.com/tQVvXotWvf

— Not Nwanne BolinGOALi For Now (@SlickRule) October 29, 2018
October 29, 2018
#CityBeardChallenge me trying to emulate the original pic.twitter.com/JdCfmoLYb6

— Safwat Davids (@safwat13) October 29, 2018
Beard Gang  pic.twitter.com/oLhDsW49Jx

— Chad Gallant (@djcoloured) October 29, 2018
October 29, 2018
My cap please. Thank you. pic.twitter.com/DDRPLOKqH9

— Advocate Vho Matidza (@vhomatidza) October 29, 2018
Can I have your  pic.twitter.com/1jqLc0drg8

— Mρυmelelσw® 成功 (@Mpumelelow) October 29, 2018
Getting my beard in shape ...  #CityBeardChallenge pic.twitter.com/funQixmEdW

— 911 (@NathanJC49) October 29, 2018
Nordien pic.twitter.com/WMnydQautK

— uTshawe (@b_zanendyebo) October 29, 2018