African All Stars
EXTRA TIME: Samuel Eto'o excites South African football fraternity
11:33 AM GMT+4
12/02/2019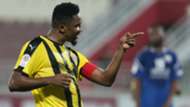 Everyone kept wondering, 'Why is Samuel Eto'o in South Africa?' Is he going to sign for a Premier Soccer League club?
The reason for his presence in Johannesburg was for the promotion of the Africa 5's tournament.
In this competition local teams will play against one another, before the winners from each selected country moves on to the main tournament in Tanzania.
There will also be a women's tournament where Banyana Banyana legend Amanda Dlamini is the first female ambassador. 
You can enjoy the social media frenzy where South African fans, the media and even PSL stars were overjoyed to meet the former Barcelona and Cameroon striker.
High-5 for #Africa5s 🖐🏾
Earlier today it was revealed that there will be a women's division added to the tournament this year.
The women's league will be spearheaded by former Captain of Banyana Banyana & football analyst @Amanda_Dlamini 👏🏾⚽👏🏾 pic.twitter.com/48XRFVbeC7

— M-Sports Marketing (@M_SportsSA) February 11, 2019
Enjoyed sharing my football experiences & learning more about South African football 🇿🇦. You guys are definitely #SquadGoals ⚽ pic.twitter.com/fz8AMPg3Mi

— Samuel Eto'o (@setoo9) February 10, 2019
Guess who is in the building ?? #WHATAREYOUPACKING WITH Cameroonian professional footballer Samuel eto'o @setoo9 #FreshBreakfast with @DJFreshSA @M_Letsholonyane @AngieKhumalo @somizi pic.twitter.com/qxYjtvposE

— METROFM SABC (@METROFMSA) February 11, 2019
The Legend Samuel Eto'o in the house. Chaf pozi #AFRICA5s pic.twitter.com/Dv5CC5T2tN

— Final Whistle SA (@FinalWhistleSA) February 11, 2019
Samuel Eto'o Castle 5's Launch https://t.co/z47RWJnVkc

— Front Runner (@FRUN_NEWS) February 11, 2019
[SPREAD THE WORD 🔊]

Catch #Africa5s brand ambassador, Samuel Eto'o (@Setoo9) on @MorningLiveSABC 📺 pic.twitter.com/7O12m7rwOv

— M-Sports Marketing (@M_SportsSA) February 12, 2019
The Great Samuel Eto'o #Castle5s pic.twitter.com/H5PG2fr9ns

— Ofhani Munyai (@Ofhani24) February 11, 2019
One of my favourite coaches was Guardiola. I enjoyed his coaching because he made football simple. @Adfinid1 #AskEtoo #Africa5s https://t.co/k9sMzzoMRW

— Samuel Eto'o (@setoo9) February 11, 2019
Today was a Big day . I met an international Star @setoo9 (Samuel Eto'o ) Former Barcelona star Im blessed #castleafrica5s #Castle5Aside19 #KukudeEkhaya pic.twitter.com/TwuqDApSSm

— T.Names SA🇿🇦 (@tnames_sa) February 11, 2019
It all comes together with a touch of the great Samuel Eto'o. He's back in Mzansi to launch 2019 #Castle5s. 8 nations will host this year's tournaments - SA, Uganda, eSwatini, Tanzania, Zimbabwe, Zambia, Nigeria, Ghana pic.twitter.com/VeIU8zh5FW

— Tromps Mothowagae (@DanieMothowagae) February 11, 2019
Samuel Eto'o & Amanda Dlamini at the Castle 5's Media Launch#Africa5's #FrunNews pic.twitter.com/lz2Sq0ttc4

— Front Runner (@FRUN_NEWS) February 11, 2019
Rarely do you get to meet a real Bonafide G.O.A.T... a person who's climbed to the absolute heights of success and achievement. Words will not be sufficient... I present to you a picture with Samuel Eto'o. 🙌🏾 pic.twitter.com/W8RkuDNfpK

— King Angie (@AngieKhumalo) February 11, 2019
Catch Samuel Eto'o [@Setoo9] LIVE now on #FreshBreakfast @METROFMSA talking all things #AfricaFives 📻 pic.twitter.com/pWQUsh7g0U

— M-Sports Marketing (@M_SportsSA) February 11, 2019
Wait, you were with SAMUEL ETO'O FILS???. The Greatest African footballer of All Time? https://t.co/BYaXyCEjBr

— Tinashe. J (@_Uncle_TJ) February 11, 2019
Samuel Eto'o must be having land. Where does he park his 100 cars? Iyoh! #FreshBreakfast

— General (@LukheleSipho) February 11, 2019