WTF
EXTRA TIME: Players and fans react as Bafana Bafana register historic win over Nigeria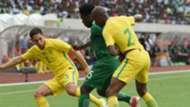 South Africa registered an emphatic 2-0 win over Nigeria in the 2019 Africa Cup of Nations qualifiers in Uyo on Saturday. 
It was Bafana Bafana's first competitive win over the Super Eagles, and after the victory, current and former players as well as football fans reacted on Twitter.
Great Win Lads ,Great Performance and to top it all off well done on the #CleanSheet .Thanks for the support good people  #BafanaKaofela pic.twitter.com/YLB0GwLQfu

— IIKHUNE3216 (@IIKHUNE_32_16) June 10, 2017
Massive result away from home #BafanaKaofela

— Keagan dolly (@dolly_keagan07) June 10, 2017
Massive victory away from home to start the campaign @BafanaBafana !! Great game from the boys #bafanakaofela #AFCON2019 pic.twitter.com/PYNMe3BlgU

— Aubrey Ngoma (@aubreyngoma11) June 10, 2017
Incredibly proud of what @BafanaBafana achieved today. Great performance & the perfect result 2start our AFCON qualifiers in the best way. pic.twitter.com/XPrnIyOfT1

— Dean Furman (@de4no22) June 10, 2017
Superb Team Effort from the boys #Bafanakaofela pic.twitter.com/3yRJq8Nrhj

— Lebogang manyama (@Lebza08Manyama) June 10, 2017
Massive result for @BafanaBafana well done boys!! Great first up result for Baxter aswell 

— Jeremy Brockie (@JRBrockie) June 10, 2017
Well done @BafanaBafana 

— Daine Klate (@Klatey7) June 10, 2017
Well done 2 Bafana Bafana great performance away from home and fighting spirit 

— Reyaad Pieterse (@rpieterse01) June 10, 2017
Fantastic result Bafana Bafana...Very proud of Baxter and the boys...Now for even bigger and better things to come✌️

— Mark Fish (@markfish74) June 10, 2017
Former Sport Minister Fikile Mbalula also reacted to Bafana's win in style. Are you surprised? Well, you shouldn't be, this is Mr 'Razzmatazz' after all.
Now that I'm going y'all are winning @BafanaBafana ? pic.twitter.com/gEGi9dbe4f

— RSA Police Minister (@MbalulaFikile) June 10, 2017
**BREAKING NEWS**

There is a leaked email that the Guptas paid Bafana Bafana to beat Nigeria 

Stolen

— RSA Police Minister (@MbalulaFikile) June 11, 2017
Here is how a few South African football fans reacted to the win. 
Bafana Bafana without Orlando Pirates players 

— Dimo (@MotlokwaP) June 10, 2017
Bafana Bafana performs better when no one is paying attention to them so let's all continue with our lives like they ain't playing

— Lesilo Rula (@kay_mahapa) June 10, 2017
Lord knows how badly we needed Bafana Bafana to win tonight!

— Maps Maponyane (@MapsMaponyane) June 10, 2017
Now, here's how Bafana Bafana players and coach Stuart Baxter celebrated the win in the dressing room. 
Bafana Bafana celebrating the win in Uyo's Akwa Ibom dressing room. Gabuza and coach Stuart Baxter lead the singing pic.twitter.com/uKBS4ZTQMU

— Bafana Bafana (@BafanaBafana) June 11, 2017
Below are the two goals Bafana scored to end Nigeria's 25-year dominance. 
Today's @BafanaBafana goals scored by @Dungi31 & Percy Tau v Nigeria (0-2) pic.twitter.com/cGkyZB9asE #AFCON2019 

— DiskiStyle (@DiskiStyle) June 10, 2017