Orlando Pirates
EXTRA TIME: Mokwena: Manchester United are not as bad as people think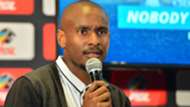 There are very few critics defending Jose Mourinho's start with Manchester United this season.
The most understanding pundits point out that United's form is only under scrutiny because a few other clubs have enjoyed their best starts. Liverpool and Tottenham are breaking records for points earned this early in the league.
United are in seventh spot, but Orlando Pirates assistant Rulani Mokwena points out that the Manchester club is not playing as badly as the critics believe.
Mokwena was influenced by United confirming their spot in the last 16 round of the Uefa Champions League on Tuesday night. They have 10 points from five games and progress along with Juventus.
This means Valenica, who are on five points, have no chance of catching them up. Here we can read how Mokwena gets behind "top coach" Mourinho and believes he shouldn't be constantly compared to Manchester City coach Pep Guardiola. Fair assessment?
I don't think Man United are playing as bad as people make them out to be. I think the narrative being sold is one that many are buying into and pity that they are constantly being compared, even if its subconsciously, to Man city and their game model. Mou is still a top coach! pic.twitter.com/i0xYSTfkSP

— Rulani Mokwena (@coach_rulani) November 27, 2018