Africa Women Cup of Nations
EXTRA TIME: How South Africa welcomed back Banyana stars in style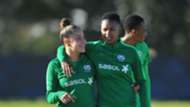 Banyana Banyana's emotional welcome by South African fans, demonstrates how far the ladies game has come.
South Africa lost on penalties to the Super Falcons in the Africa Women's Cup of Nations final on Saturday.
Nigeria and Banyana drew 0-0 at full-time and extra time, but then the Super Falcons lifted the trophy with the very last penalty action as the game went down to the wire.
Banyana can be proud of their performances in the tournament and their welcome underlines the respect they've earned.
Watch photos, videos and read the comments written for Banyana Banyana below.
As we wait for @Banyana_Banyana for come out of the terminals. @KayaFMSport pic.twitter.com/5y7AwkKnBz

— Busisiwe Mokwena (@BusisiweMokwena) December 2, 2018
Thank you South Africa for the amazing welcome home!! Appreciate all the love and support https://t.co/1NY2pmt3AO

— Jermaine Seoposenwe (@jermaine109) December 2, 2018
Women's sport wins big and flies the South African flag high! #WomandlaInSport 🇿🇦@Banyana_Banyana @SAFA_net @SasolSA @SasolLeague @WomenBoks @Springboks @SPORTandREC_RSA @TeamSA18  @rachysuperstar @Netball_SA @BabalwaLatsha pic.twitter.com/Wb1mlvjmT9

— gsport4girls (@gsport4girls) December 3, 2018
. @Banyana_Banyana arriving back home after the 2018 Women's AFCON in Ghana #limitless #afcon2018 @SAFA_net @SasolLeague @SasolSA @FIFAWWC pic.twitter.com/kpx5jRcutP

— Banyana_Banyana (@Banyana_Banyana) December 3, 2018
#AWCON18 @Banyana_Banyana are home 🇿🇦 pic.twitter.com/qzqq44pQmm

— EWN Sport (@EWNsport) December 2, 2018
Join us at OR Tambo Intl Airport this afternoon to welcome @Banyana_Banyana. Let's give them the heroes welcome they deserve! #limitless pic.twitter.com/n2oYWHLTq8

— Official SasolLeague (@SasolLeague) December 2, 2018
The reaction as @Banyana_Banyana finally arrive from Accra where they finished as runners-up at the #AWCON2018 & also qualified for the @FIFAWWC in France next year. @SasolSA @SPORTATSABC pic.twitter.com/LXiy2tGgcD

— Velile Mnyandu (@Veli_Mbuli) December 2, 2018
Thank you again for the support 🇿🇦🇿🇦🇿🇦🇿🇦. We are humbled @Banyana_Banyana @SAFA_net @SasolLeague @SasolSA #limitless #afcon2018 @FIFAWWC pic.twitter.com/ASng1znEbG

— Banyana_Banyana (@Banyana_Banyana) December 3, 2018
Celebrating national heroins this morning!!! #Banyana you are the best and we love you!!
⁦@Janinevanwyk5⁩ ⁦@SakinaKamwendo⁩ ⁦@descaptain⁩ pic.twitter.com/gSk6wUNtPW

— Leanne Manas (@LeanneManas) December 3, 2018
Colleagues of Mamello Makhabane welcoming her back home with @Banyana_Banyana @SAFA_net @SasolSA pic.twitter.com/IFiqX7Hmxi

— Banyana_Banyana (@Banyana_Banyana) December 2, 2018
South Africans out in their numbers to welcome @Banyana_Banyana #WomenInFootball #womensfootball @KayaFMSport pic.twitter.com/ZjLDdMT5U5

— Busisiwe Mokwena (@BusisiweMokwena) December 2, 2018
What an amazing tournament @KgatlanaJnr11 had, congratulations on being named player of the tournament, well deserved! https://t.co/E7z6Y2Kj2I

— Moonira Ramathula (@MoonsRams) December 2, 2018