World Cup
EXTRA TIME: How South Africa reacted to England and Croatia victories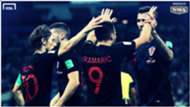 Croatia and Russia were locked with the score on 2-2 before that shootout, in a game that took many twists and turns.
The dramatic night of action captured the imagination of the host country and the world over the weekend.
Russia were so close from keeping their World Cup dreams alive, only for it to be snatched away by Croatia as both teams played in their second shootout in a row.
Earlier in the day England made light of Sweden and will now go on to face Croatia in the second semi-final on Wednesday night.
Here's how South African soccer followers reacted to the games. We also included a few Tweets from World Cup stars that were liked by PSL players.
You would find that the likes of Itumeleng Khune are liking Tweets from other international players.
Great to see/hear two major experts of today's quarter final giants along side each other here in USA / #FOX: ⁦@kelly_smith10⁩ and #GuusHiddink pic.twitter.com/dIt0QDPxT7

— Vera Pauw (@verapauw) July 7, 2018
Pundits making same mistake when they writeoff South American football (as they do with Africa). If there were just 5 Euro nations in a 16-team #WorldCup you wouldn't get 4 of them in the semifinals. If all 10 Conmebol nations took part v 5 Uefa nations, more SA's would progress

— Ignat Football (@IgnatFootball) July 7, 2018
I got 2 right from a possible 15 predictions! But my Croatia still in.. https://t.co/S6xQOcz1oG
— Stanton Fredericks (@stiga_f) July 7, 2018
Vida the HERO takes off in celebration

Could this be the moment when Croatia qualified for the semi-finals???#RUS 1-2 #CRO #WorldCup pic.twitter.com/G0KcxxyLug

— Thandi Merafe (@thandi_399) July 7, 2018
Football can kill you! #WorldCup

— Issa Sarr (@Noblesarr18) July 7, 2018
Croatian President Kolinda Grabar-Kitarović and Croatian Federation President (and former world class player) Davor Suker celebrating go ahead goal. pic.twitter.com/Bw497vB8Am

— Sunil Gulati (@sunilgulati) July 7, 2018
There's been many fantastic matches in this #WorldCup, but for me the best game has come from one of the most unlikeliest of sources #RusCro. The passion of Russia's spectators boosted the adrenaline, & this was a fascinating encounter of two proud Slavic nations #Cro #Hrvatska

— Ignat Football (@IgnatFootball) July 7, 2018
Croatia don't huff & puff, or shoot without meaning. They suffocate you in midfield with their supreme control, have biting tackles, intelligent tactics & good fwd play. They're better than England but #ENG can beat them with direct tactics if they take their chances. #WorldCup

— Ignat Football (@IgnatFootball) July 7, 2018
A look at the #ENG defensive shape vs #SWE. Henderson the central of 3 midfielders, anchors the web & does well to cover quite a large space. #ENG face a tougher equation in #CRO, with qualitative variables in midfield... #WorldCup pic.twitter.com/kC4Fb3mJ0d

— coachdogge (@coachdogge) July 8, 2018
What now ???  no football to watch.

— James keene (@JamesKeene28) July 8, 2018
Insights with Jay Jay Okocha  pic.twitter.com/vYrjythIG3

— Carol Tshabalala (@SimplyCarol8) July 8, 2018
Words can't describe.. part of something special  pic.twitter.com/4fDNQn5nH9

— Marcus Rashford (@MarcusRashford) July 7, 2018
Want to say a special thank you to the whole country for the support we've received so far, it's means to much to me and the whole team!  pic.twitter.com/YNPy64RpI0

— Dele (@dele_official) July 8, 2018
Love this from Lucas Leiva's so pic.twitter.com/nI007db65q

— Empire of the Kop (@empireofthekop) July 8, 2018
The view that Sweden's style is weak always made me laugh. Same criticism was leveled on Sven at England. Pundits expect running fast with anger to be good football. Sven's #Eng unlucky in 2 quarterfinals: v Portugal penalties with 10-men in 2006, & Ronaldinho's wonder fk in 2002

— Ignat Football (@IgnatFootball) July 7, 2018
#SSFootball pundits say Sweden easy to beat. No. #SWE a team unit, beaten Italy, Netherlands & France in recent qualifiers. If you research their style they tend to put you asleep, they're organized, calm & bite you with sudden goals. Don't forget Jordan Pickford's 3 great saves

— Ignat Football (@IgnatFootball) July 7, 2018