Manchester United
EXTRA TIME: Aubrey Ngoma makes fun of Roy Hodgson as Manchester United beat Palace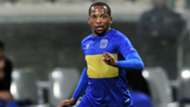 Many talk about Jose Mourinho's bus parking tactics but he's got nothing on Roy Hodgson's bus. 
Though, this was not going according to plan for both managers because they conceded so many goals. Somehow Palace found themselves two goals up, largely thanks to taking advantage of 'advantage play' on a free-kick, so coach Roy Hogdson had to find a new way of protecting a lead against a major club in the league.
It was all Manchester United from that point of the game, as even Mourinho had to actually throw caution to the wind... and attack!
Here's how South African pundits and famous Bafana Bafana player, Aubrey Ngoma wrote about the game on Twitter.
@tmonare4 https://t.co/h2ScylGOnh

— Aubrey Ngoma (@aubreyngoma11) March 5, 2018
Watching Roy Hodgson go in full Hodgson mode when Crystal Palace went 2-0 up against Man United, reminded me of this moment Roy Hodgson noticed he was on TV and then decided to act like he was making a plan for England vs. Iceland #CRYMUN. pic.twitter.com/1KmsM6B9qe

— Ignat Football (@IgnatFootball) March 6, 2018
Come on United !!!! 2-0 win prediction #CRYMUN #mufc

— James keene (@28Jkeene) March 5, 2018
Crystal Palace 1 Manchester United 0 Townsend the scorer via a deflection.

— Marks Maponyane (@MarksMaponyane) March 5, 2018
Smalling and Lindeloef United's two centre backs  not sure about that one. #CRYMUN #Mufc

— James keene (@28Jkeene) March 5, 2018
Manchester United reminded us in #CRYMUN that the sole purpose of the creation of @ManUtd is to tease rival fans before landing a sucker punch. It's a technique mastered by Alex Ferguson. You see a club playing so poorly but still ahead of clubs hailed for playing brilliantly.

— Ignat Football (@IgnatFootball) March 6, 2018