Punjab U18
EXCLUSIVE: Finalists of Premier Cup speak ahead of the showdown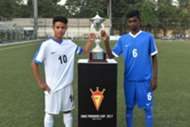 Cooperage Football Ground will host the finale of Premier Cup, a popular youth championship held in association with the All India Football Federation (AIFF), on Friday evening. Defending champions Minerva Punjab FC's U16 side will take on Bengaluru outfit Ozone FC U16s in the ultimate tie of the tournament. Ahead of the clash, skippers of both teams shared words with Goal.
The Chandigarh-based team sealed their berth in the final following a 1-0 win over mighty opponents Bengaluru FC in the semi-finals. Nongdamba Naorem scored the winner for The Warriors in the 52nd minute in a closely fought encounter.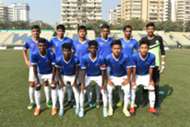 As for Ozone FC, brace from Ignatius John and strikes from Ajay Alex and Manvir Singh were enough to hammer Meghalaya side Shillong Lajong FC in the semis.
Ajay Alex, captain of the youth team of Ozone FC, a I-League second division outfit from Bengaluru, believes that despite their unbeaten run in the league, his side will not take rivals Minerva Punjab lightly.
''We consider all opponents as equals. We aren't over confident. Ozone (FC) are heading into the finals with the same mindset we have in any other encounter,'' he expressed.
On being quizzed about the defending champions' strengths, the younsgter answered that the North Indian side consist of strudy players. ''They are physically really good. We played against them last year and lost. I hope we turn it around this time,'' discussed the semi-final's goal scorer.
Indian Football - India to play friendly against Cambodia ahead of 2019 AFC Asian Cup qualifiers
Ajay, an attacking midfielder himself, revealed that he looks upto former Salgaocar player Climax Lawrence. Further, his coach added that the young prospect admires the 38-year-old as he kick started his football career in Goa, just like Lawrence.
''(Ajay) Alex himself is a box-to-box midfielder and also operates as a holding medio. Since Alex started his football career in Goa, he was able to follow Climax (Lawrence) closely,'' explained the coach.
Lastly, Ajay shared his views on the current state of the game in the nation. The youngster said, ''Football is growing in India, especially with the U17 World Cup coming in the nation, the fame has grown.''
Indian Football - Praful Patel: 'Decision to sack Adam taken in the interest of U17 national players'
Ozone's opponents Minerva Punjab are strong believers of attacking footballing according to their skipper, Md. Shah Jahan. Discussing about their gameplay, Shah Jahan commented, ''We generally prefer ball positioning on the field. We mostly stick to playing tiki taka football.'' Further, he added that the Northerners' power lies in their counter attack. ''I think we have a good counter attack. We have pace on our flanks and in our midfield,'' explained the junior.
Despite Ozone FC's 4-1 blockbuster win against Lajong, the Minerva side isn't nervous about their fierce attack. ''No, their attacking forces don't worry us. We are going to perform with confidence. We are defending champions and we are sure we will clinch the title this time as well,'' asserted the optimistic captain.
Finally, speaking about the opportunities gifted to youngsters from the competition, Shah Jahan remarked,''It is good to have tournaments like these. Through such platforms, we can show our football abilities to the country,'' he signed off.