Transfers
Ex-Arsenal winger Gervinho rolling back the years at Parma after George Weah-like wonder goal
12:00 PM GMT+4
26/09/2018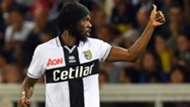 Gervinho had never seen George Weah's iconic, coast-to-coast goal for AC Milan before last weekend. 
"I was nine at the time and we didn't have a TV in my home in Ivory Coast," he revealed to Gazzetta dello Sport after being shown footage of the Liberian's famous solo strike for AC Milan in 1996.
"It was already enough if there was something to eat.
"Anyway, Weah's goal was a masterpiece, although mine against Cagliari, it wasn't too bad, right?"
Not too bad? It was brilliant. Parma coach Roberto D'Aversa enthused that he hadn't "seen one like it for many years".
Not since Weah, the Italian media argued. Certainly, there were obvious similarities.
Gervinho was standing just 10 yards outside the Parma penalty area when a clearance came his way. 
Relying upon all of the old instincts and pace that made him such a hero at both Lille and Roma, the 31-year-old immediately turned and surged forward, evading two desperate sliding challenges, from Nicolo Barella and Charalampos Lykogiannis, as he burst into the Cagliari half. 
Gervinho had a team-mate to his left but, seeing only Ragnar Klavan left in front of him, he fired up the after-burner and blazed past the on-loan Liverpool defender before powering a shot into the net via the right-hand post.
The entire Tardini rose to their feet. Even midfielder Luca Riogoni joined in the applause before mobbing Gervinho along with the rest of the Parma squad.
There were even fans in the Cagliari section left with their hands on their head, stunned by what they had just seen.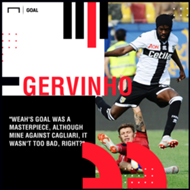 "When I saw all the people so happy for my goal," he later reflected, "for me, that was the most beautiful gift. 
"Entertaining those who come to see me is my objective."
The goal also brought back a lot of memories from his past; thoughts of how far he has come since his formative years at ASEC Mimosas of Abidjan, where he took his first steps towards becoming a professional footballer.
"I played barefoot," he revealed. "They only gave you boots after three years of training and if you past a certain number of tests.
"The first was: 50 headers against a wall without letting the ball hit the ground. Then, 50 with your thigh, then your feet, first the right and then the left.
"The academy at Abidjan was my school of education. At 16, they sent me the boots and jersey with my name on the back. You can imagine how I felt: in the clouds."
He is flying just as high at Parma, where he is repaying the faith of those who had long tried to persuade the former Roma ace to return to Italy.
Gervinho had enjoyed playing in China, and was well remunerated for doing so, but his two-year spell with Hebei CFFC could hardly be considered a success, yielding just four goals in 29 Super League appearances.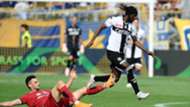 He is halfway towards matching that tally after just four Serie A outings for Parma, who signed him on a free transfer.
His signing was met with curiosity; now he is already being touted as the signing of the season. 
The hype is unsurprising, too. 
He outshone Cristiano Ronaldo on his first Parma start, against Juventus on matchday three, levelling the game before Blaise Matuidi's second-half winner, while he was excellent in the shock 1-0 win over Inter at San Siro a fortnight later. 
Then came that goal against Cagliari. It was no isolated incident either; Gervinho had been a constant threat.
Cagliari coach Roland Maran conceded, "He was pretty unstoppable."
He was anything but at Arsenal, for whom he scored just nine Premier League goals in two seasons, after joining from Rudi Garcia's surprise 2011 Ligue 1 champions Lille.
Arsene Wenger hailed Gervinho as "very creative, an instinctive dribbler" but felt that he had no other choice but to sell him after seeing him lose confidence during his second season at the Emirates.
Gervinho, for his part, agreed that confidence had been key but argued that his time in north London was a failure because Wenger hadn't shown any in him.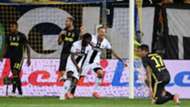 Whatever the truth, Gervinho unsurprisingly flourished again after being reunited with Garcia in 2013, this time at Roma. 
He still describes the French coach as like a second father to him.
"Everything I know how to do on the field he taught me," he confessed.
"And with Lille, when we won the league and the French Cup in 2011, mamma mia, what fun!" 
He is enjoying his football again at Parma. However, he is also driven by a desire to repay the faith the club showed in him.
He knows that a club previously beset by financial problems had to make certain "sacrifices", as director Daniele Faggiano put it, to bring him back to Serie A.
Consequently, he intends to play his part in putting Parma back among Europe's elite.
As he says, "Dreaming costs nothing, no?"
And how could one disagree with a man whose own dream has taken him from barefoot matches on the unforgiving pitches of Abidjan to the summit of Serie A?
As his Weah-like wonder goal last weekend showed, anything is possible if one works hard enough.