Premier League
Every Premier League football mascot: From Gunnersaurus to Fred the Red & beyond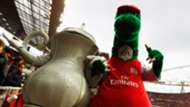 Football matches can be tough for kids, especially before their heroes take to the pitch.
A lot of waiting around in freezing or wet weather could turn off a young fan for life, but clubs have a solution: dress someone up in a costume and have them dance around to keep the youngsters amused.
But just who are those tasked with such a hefty responsibility in England's top tier? Goal has the answers:
---
---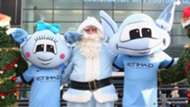 Moonchester and his partner Moonbeam are from the planet 'Blue Moon', a reference to one of Man City's more iconic fan anthems. A fluffy pair sporting giant smiles and bunny-like ears, the duo would not look out of place on children's television – and isn't that who mascots are aimed at?
---
---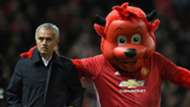 Apparently voted the most popular club mascot in Match magazine back in 2011, Fred the Red's name is pulled from Manchester United's nickname: The Red Devils. Wearing shirt number 55, Fred dances for fans ahead of matches to get folks in the mood for action.

According to The Sun, Steve Smith, the man who dons the suit, was concerned about his job security when Jose Mourinho took over at the club, but was quickly put at ease after the manager told him he enjoys how he interacts with United's fanbase.
---
---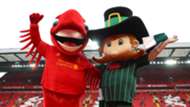 The liver bird, normally represented by a cormorant, is a symbol for all of the city of Liverpool. As such, the decision to have one as Liverpool FC's mascot is something of a no-brainer. 
Mighty Red is Anfield's good-luck charm and is sometimes depicted holding laver seaweed in its mouth – a pun on "Liverpool". Reds fans can buy a 36-page children's book on their club website that provides kids with the perfect introduction to the emblematic bird.
---
---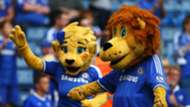 Chelsea fans are a proud bunch, so what better way to show that by having a lion as their mascot?
Stamford the Lion has the honour of meeting and greeting young fans and has been joined by his partner Bridget (get it?) since 2013 – you can see Bridget joining the squad in the comical video below:
Simple and effective. Nice work, Chelsea.
---
---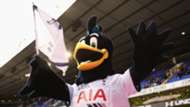 Pulled straight from the club's crest much like Liverpool's mascot, Chirpy the Cockerel gets the kids amped before matches at Wembley and is joined by Spurs Lily who is, presumably, a female chicken.
Cock a doodle doo!
---
---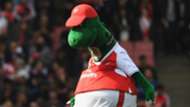 Potentially the most famous mascot in the Premier League, the Gunnersaurus is a giant green dinosaur that has been turning out for Arsenal since 1994.
The Gunners had run a competition for kids to see who or what would be the next hype monster for the London club and 11-year-old Peter Lovell won the prize:
"I was always into art as a kid and at the time I was drawing a kind of comic book series of dinosaurs because I was obsessed with Jurassic Park. It was just one of those eureka moments where the name suddenly came to me – Gunnersaurus Rex," Lovell said in an interview years later.
---
---
Burnley's mascot is Bertie Bee and has seen his fair share of controversy whilst representing the Lancashire side.
Throughout his career Bertie has rugby tackled a streaker and was sent off and 'jailed' in 2013 after offering the assistant referee his glasses in a top-of-the-table clash with QPR.
Now that's what you call passion!
---
---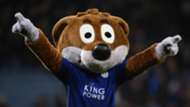 Filbert Fox has appeared at every single matchday at Filbert Street for over 25 years – that's over 1,000 matches – with Leicester City rather proudly stating on their official website that he has outlasted 17 first-team managers and hundreds of players.
With Leicester's nickname being 'The Foxes', it would be rather strange to have anything else as a mascot, right?
---
---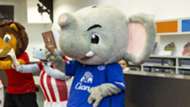 Changy the Elephant was the Everton's mascot until this season, when the club ended their shirt sponsor ties with the Thai beer company.
The Toffees currently have a partnership with popular mobile game Angry Birds and there have been sightings of a fluffy bird doing the rounds at Goodison, however it seems the Merseyside club are currently in mascot limbo as the lead character if the Angry Birds franchise is known as 'Red'... not a great fit for a club who historically wear blue!
---
Bournemouth's mascot
---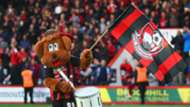 There's no clever wordplay to be had for Bournemouth, with the Cherries opting to go for a simple solution in.
Cherry took part in a community whodunnit aimed at kids in 2016, where young fans could go and learn about forensic science as they endeavoured to find out who kidnapped the club mascot! 
---
---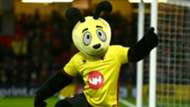 Similar to the unruly Bertie Bee, Watford mascot Harry the Hornet found himself in trouble in 2016 after mocking Wilfried Zaha by doing a comic dive in front of the Crystal Palace winger following a heated draw at Vicarage Road.
Then Palace boss Sam Allardyce told the FA to sort it out" at the time, but Harry escaped punishment for taking the mickey out of the Ivory Coast international.
Buzz off, Sam, it's just a bit of fun!
---
---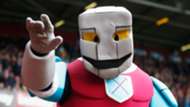 Unveiled in 2011, West Ham mascot Hammerhead is a semi-robotic character said to have come into being when a bolt of lightning struck the Thames Iron Works where West Ham original formed over 100 years ago.
The Irons' website claims Hammerhead is 'strong as iron', 'fast as Billy Bonds' and scores goals like club icon Vic Watson. One wonders why we haven't seen him playing up front for David Moyes yet this season.
---
---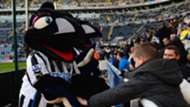 Donning the number 9 shirt at St James' Park, Monty Magpie and his partner Maggie are charged with rousing the passion of young fans before Newcastle's home matches.
A reference to the club's nickname 'The Magpies', anything else would have just been weird.
---
---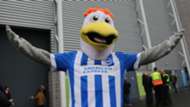 An idea pulled straight from the club's crest, Gully and Sally the seagulls patrol the touchline during Brighton's home games to get the fans rallying behind the team.
The feathered pair take part in all kinds of charity and community work, though may find themselves in a flap if the newly promoted club lose the battle against relegation.
---
Crystal Palace
---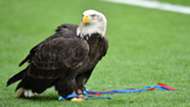 One of the few real-life animal mascots in world football, Kayla the American bald eagle was born in Canada and flies around Selhurt Park before Crystal Palace's home matches.
Her popularity has seen her credited with saving the Kent bird sanctuary where she lives – and she's even on the cover of Kings of Leon's 'Only by the Night' album!
---
---
Groundskeeper Eddie Donne would do anything for the love of the Swansea badge, including donning the nine-foot tall costume of Cyril the Swan.
Donne didn't quite fancy it at first, but a few beers helped sway his decision when he first pulled on the suit in 2015. Having worked for Swansea since he was 17, the man in the swan rose to instant fame when he clattered into Bryan Hamilton, Norwich City's assistant manager at the time, as he flapped up and down the touchline.
Donne was roundly hounded by Norwich fans after they scored, but he would have the last laugh as the Welsh side found an equaliser. The rest is history.
---
---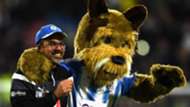 Terry the Terrier was treated to his very own girlfriend when Tilly the Terrier was unveiled in 2016. 
Young supporters are treated to seeing the canine pair before matches and during half-time, adding to the excitement of gracing the Premier League with their club's presence.
---
---
Two mad mutts by the name of Sammy Saint and Super Saint make up Southampton's mascot contingent – it's a simple premise but check out those awesome dance moves!
---
---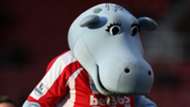 Stoke's nickname 'The Potters' is the inspiration for their mascots Pottermus Hippo and Pottermiss Hippo – one has to wonder whether the the likes of the Gunnersaurus will ever be treated to a partner like so many of the other Premier League hype monsters.
---
---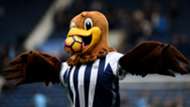 Another two pulled from the club's crest, throstles Baggie Bird and Albi represent West Bromwich Albion on the mascot front.