Lionel Messi
European Golden Shoe: From Diego Costa to Messi - the top 20 scorers this season
12:00 PM GMT+4
05/06/2017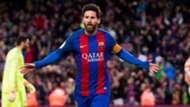 Lionel Messi has won the European Golden Shoe for 2016-17 after netting 37 times for Barcelona in La Liga.
Champions League Team of the Season
It is the fourth time he has claimed the prize, having previously finished as the continent's leading marksman in 2010, 2012 and 2013.
Great rival Cristiano Ronaldo finished 11th, having scored 25 times in the Primera Division.
The individual honour will come as small consolation to the Argentine, who saw Real Madrid win both La Liga and the Champions League as Barca claimed only the Copa del Rey in what was by their standards a disappointing campaign.
Messi finished with a points total of 74 due to his tally being multiplied by a factor of two, which was the case the UEFA's top five ranked leagues this term: Spain, Germany, England, Italy and Portugal.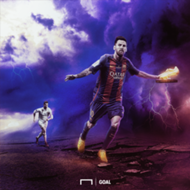 His form was prolific throughout a campaign during which he played 34 times and scored a goal every 77 minutes on average. Remarkably, he did not manage a single league hat-trick but did score 11 doubles — more occasions than he was shutout. 
The 29-year-old's closest challenger was Sporting CP forward Bas Dost, who netted 34 times but still finished six points short of the South American. 
Meanwhile, Dortmund ace Pierre-Emerick Aubameyang was another three goals further back, leaving him with a final point tally of 62, beating Bayern Munich hitman Robert Lewandowski into fourth by one goal.
The Premier League's top scorer was Tottenham and England forward Harry Kane, whose 29 strikes earned him 58 points, putting him in joint-fifth place along with Roma ace Edin Dzeko, who scored more goals than anyone else in Serie A, and Messi's Barcelona team-mate Luis Suarez.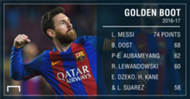 Suarez came into the campaign defending this prize, having netted an incredible 40 times during the 2015-16 campaign.
Napoli's Dries Mertens came eighth, having enjoyed a stunning second half to the campaign. He had scored only three times at the beginning of December but ended the season with 28 goals to his credit.
Although Edinson Cavani scored 35 times, Ligue 1's factor of 1.5 meant that he ended the season with 52.5 points. Still, the Uruguayan can draw some consolation with the fact that France's improvement in UEFA's coefficient means that if he musters the same tally again next season, with the league's factor rising to 2, he will stand a strong chance of winning the prize. 
Andrea Belotti of Torino, who tallied 26 times, completed the top 10. 
Ronaldo can be found only in 11th, but at least has team glory to enjoy following a relatively disappointing campaign on the scoring front in the Primera Division. Koln's Anthony Modeste and Everton's Romelu Lukaku joined him on 25 goals and 50 points.
One strike and two points further back is the trio of Mauro Icardi of Inter, Juventus' Gonzalo Higuain and Arsenal's Alexis Sanchez.
Ciro Immobile was the only player to finish on 46 points, beating out Lyon's Alexandre Lacazette, despite his 28 goals, and Timo Werner.
Rounding out the top 20 are Premier League duo Sergio Aguero and Diego Costa, who scored 20 times to reach the 40-point barrier.