MLS
Eligible for two countries, Thomas McNamara still waiting for a national team call after career year
10:43 AM GMT+4
07/12/2016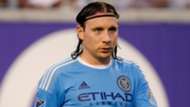 NEW YORK — After a breakout season in 2016 that saw him establish himself as one of the best in MLS at setting up goals, as well as scoring memorable goals, Thomas McNamara figured to start drawing serious interest from the two national teams he is eligible to play for.
That interest hasn't arrived quite yet, but that hasn't dented McNamara's belief that he is capable of doing the most with any chances that come his way.
READ MORE: David Villa an MVP on and off the field
The American-born New York City FC midfielder also is eligible to play for Ireland, but as we move toward the new year, McNamara has yet to hear from either the U.S. or the Irish national team.
"I haven't heard from anybody, from either side," McNamara told Goal USA at Tuesday's MLS MVP ceremony honoring McNamara's teammate, David Villa. "The Irish FA just reached out to confirm my citizenship, and that was that. I haven't heard anything since, and I haven't heard from the American federation."
New U.S. coach Bruce Arena has already let it be known he plans on tapping into some new blood from MLS, and McNamara is a good candidate for a call. He matched or surpassed career highs in every major statistical category, notching five goals and contributing nine assists for an NYCFC team that enjoyed a significant turnaround after a disappointing expansion season in 2015.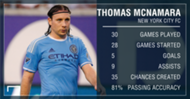 McNamara's confidence on the dribble, quickness, passing ability and dangerous shot from distance helped keep opposing defenses on their toes, and he feels he can make his mark if a national team opportunity comes.
"I would love to be a part of (the U.S. national team's January camp)," McNamara said. "I think it's an honor to represent the national team, and I feel like if I'm given a chance I think can take it. I feel like I'd bring something a little bit different to the player pool."
McNamara has blossomed at NYCFC after joining the team in 2015. As a rookie in 2014 with Chivas USA, McNamara turned heads with his impressive early form, only to have that promising season cut short by a torn ACL. Chivas USA's demise led to McNamara being briefly acquired by D.C. United before NYCFC selected him in the 2014 MLS expansion draft.
It took McNamara some time to find his footing, but since earning his first start for NYCFC in June 2015 he has become a consistent contributor, even after the team's coaching change last winter. Since that first NYCFC start, he has amassed 10 goals and 12 assists in 45 matches.
Capable of playing as a winger or in a central midfield role, McNamara has established himself as an important player under current NYCFC coach Patrick Vieira, and could be in line for an even bigger role in 2017 now that Frank Lampard has moved on.
As for his potential international future, McNamara isn't ready to make a decision on a national team. As things stand, he doesn't have to just yet, but if he continues to play like he did in 2016, a call — or calls — could be on the horizon.
"I would love to play for both national teams," McNamara said. "Right now I don't have any chances, and am not thinking about this one or that one. For me, it would be an honor to represent either country, and however it works out down the road it works out."