Johor Darul Ta'zim
Elavarasan sees Ghaddar's signing as the final piece in the JDT jigsaw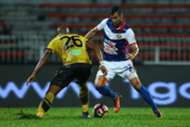 PKNS FC faces a tough task on Wednesday night when they go up against Super League leaders, Johor Darul Ta'zim (JDT). The formidable task marked by the fact that the Red Ants are sitting in ninth spot, 16 points behind JDT in the standings.
In an interview with Goal, the head coach of PKNS E. Elavarasan puts JDT's latest signing as one that makes them a team on a different level altogether. The 52-year-old coach is making plans to ensure that the Mohammed Ghaddar will not have an easy time at Shah Alam Stadium.
"With the recruitment of Ghaddar, they are one of the most complete squads at the moment. Ghaddar is the top scorer in the Super League and with him, the confidence level of JDT will be higher. On our side, we are short of one foreigner because Gonzalo [Soto] is still nursing his knee injury. We'll have a tough time managing their attacking force," said Elavarasan.
Due to the terms that followed the signing of Safee Sali from JDT, there's a gentleman's agreement that the striker will not be fielded in PKNS' match against JDT and that means the attacking burden falls on Patrick Ronaldinho Wleh. However, Elavarasan is planning to give the Liberian the support he needs against JDT.
"On our side, Patrick and Matias [Hadwa] is still there, and they can cause problems for JDT's defence. Definitely put him [Wleh] to combine with Matias. We need extra body in the attacking third. Knowing JDT have an all round good squad, we need to stay focus the entire 90 minutes," explained Elavarasan.
Over the past few weeks, there have been murmurs about PKNS making changes to their squad to help them in the challenges for the rest of the season. Except for Wleh, the other imports on the books could be looking to ply their trade elsewhere.
However, Elavarasan remains coy as to their situation - refusing to put their performance against JDT as one of a last-chance saloon for them. A sit-down with the management will take place after the match against JDT and decisions to the squad will be made then.
"We recognise what they have done last year for the team. We know how important it is for them to get us promoted lat season. But end of the day, it's all about the performance. Looking at the performance we also need to improve."
"That is why after the 24th, we'll have a discussion with the management then we talk about how to improve the meeting. We thank all these players who have done well last season and hopefully they can be with the team as long as possible," added Elavarasan.