Africa Cup of Nations Qualification
Eintracht Frankfurt defender Simon Falette interested to play for Guinea
12:25 PM GMT+4
27/10/2018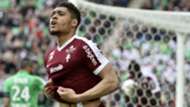 The Federation of Guinean Federation (Feguifoot) are close to having Eintracht Frankfurt centre-back Simon Falette play for the Sylie Nationale.
Born in Le Mans, France, Falette is eligible to play for both Guinea and French Guiana where his family hails from. The South American French territory tried to lure him in 2015 but with no success.
But Falette has been impressed by the Guinea set-up and has expressed interest in committing his international future to the Syli Nationale who have succeeded in courting him.
It is now left with Fifa to clear him to play for Guinea and he could be available for next month's 2019 Africa Cup of Nations qualifier against Ivory Coast at home.
"The (Feguifoot) vice president, Amadou Diaby will come to see me in Germany at the beginning of the week. My dad will be present," Falette was quoted as saying by BBC.
"I think it will be done very quickly. What is certain is that I am very motivated, otherwise I would not pick up my phone. I know (Caen player) Baissama Sankon well and I have talked with him and he has told me a lot of good things about Guinea.
"I had a good discussion with the national coach Paul Put, who outlined a very coherent project to me. In addition, last year, I played against Naby Keita in the Bundesliga and I also watch the Guinea matches.
"I see that this team has a lot of quality. And it's good that I play for Guinea because of my children."
Falette is married to a Guinean. Guinea have this year alone managed to successfully lure former Belgium youth international and Fulham midfielder Ibrahima Cisse and Napoli midfielder Amadou Diawara.
Former France youth international Abdoulaye Toure of Nantes has also switched international allegiance to the West African nation.