AIFF Super Cup
East Bengal: Katsumi and Al-Amnah fall out during practice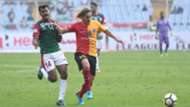 Even after a disappointing finish in the recently concluded I-League, East Bengal continue to be in the headlines, albeit for the wrong reasons. It is an open secret that all is not well between coach Khalid Jamil and technical director Subhash Bhowmik after the former failed to turn up for practice for the first two days. 
On Sunday, another unpleasant incident took place during practice when two senior players Katsumi Yusa and Mahmoud Al-Amnah got into a heated argument with each other in front of technical director Bhowmick. Katsumi accused Amnah of not passing the ball to him and then the two of them were engaged in a scuffle. Ansumana Kromah, who joined East Bengal from arch-rivals Mohun Bagan, supported Katsumi and complained that Amnah is not passing to him.
This is the second time that East Bengal players have been involved in a skirmish since practice resumed on March 20. Nigerian hitman Dudu Omagbemi and defender Gurwinder Singh got into a fist fight when the Jalandhar-born defender tackled Dudu from behind after the striker showed him a clean pair of heels. It was only after the intervention of teammates and coaching staff that the duo calmed down. 
But Bhowmick was unperturbed by the incident and even admitted to the media that he usually enjoys this kind of fights during practice as it shows the spirit and dedication of the footballers. "I enjoyed the fight between Dudu and Gurwinder. This should be the case. During my playing career, I used to fight regularly with Subrata Bhattacharya. This is the spirit that I want," said Bhowmick enthusiastically a few days back. On Sunday, Bhowmick was seen talking to Katsumi and Amnah after the brawl.
East Bengal leave for Bhubaneswar either on April 1 or 2 depending on availability of train tickets to face Mumbai City in Super Cup on April 5.