Newcastle United
Dubravka calls for urgent player meeting as he demands more from Newcastle flops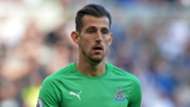 Newcastle United goalkeeper Martin Dubravka has called for the players to hold an in-house meeting as they aim to improve their stuttering performances.
The Magpies are still yet to win a Premier League game in 2018-19, and have only picked up points in draws with Cardiff City and Crystal Palace.
Their poor opening to the campaign means that Rafael Benitez's side are only being kept off the foot of the table by goal difference.
And Dubravka, who has conceded 10 goals so far this season, has claimed that team unity will help improve performances, and that he wants to see far more from his team-mates.
"We need to find it ourselves," he told the Newcastle Chronicle .
"We need to analyse everything, but we have to be honest with each other - we have not done that until now I think.
"We should have a meeting and discuss things, sometimes you have to do that. Sometimes, that can help the players."
Newcastle lost 2-0 against Leicester City last time out thanks to goals from Jamie Vardy and Harry Maguire, and Dubravka has claimed that he was disappointed with his side's reaction to conceding.
"We have to react differently," he added. "No one is happy when you concede a goal, of course, but we have to change something if, and when, it happens.
"We lost the game against Leicester so confidence is not high right now. We have to sit down together and speak about which direction we need to go in now.
"We have to go in the same direction. Every player.
"So, I expect to see us putting in more, even when we are conceding goals."
As well as the players, Benitez has come under some criticism in the press over recent weeks, but Newcastle's Slovakian stopper believes the player's performances are to blame, not the manager's tactics. 
"Everybody has to know which kind of system we play. Rafa has told us many times how we should do things," he continued.
"Against Leicester we were a little bit confusing in a few moments but, for me, it was more important how we reacted and we did not react well.
"Even if you are not playing in the way you would like to play, you always have to give 100 per cent because this is Premier League, one of the best leagues in the world."