du LaLiga HPC Crowned U18 Champions of the UAE FA Academy League for Second Year Running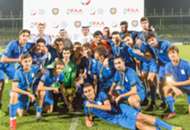 19 March 2018 - Dubai, UAE – UAE FAAL, the nation's official FA Academy League, crowed the du LaLiga HPC U18 team as the champions of the second season, after a final face off against City FC. du LaLiga HPC take home the title with an undefeated winning run throughout the second season which earned them the top of the League table with a substantial advance over runner up City FC.
Tensions ran high as du LaLiga HPC faced off City FC at the Sevens for this determining match. With all to play for, both teams had their eye on the UAE FA Academy League title in the U18.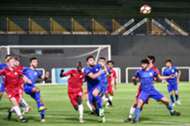 The match kicked off to a roar of support from friends and family who had come out to support the two strong contenders for the championship title of the UAE FA Academy League. With equal possession in the midfield and both teams driving the play with a relentless determination, it was City that broke through the defense of du LaLiga HPC18 minutes into the first half with Jack Manson's free kick rocketing from from outside the penalty box into the top left hand of the net.  Keeping their composure, the boys from du LaLiga HPC drove on and minutes later, Yahia Iraqi's beautifully placed corner opened up an opportunity for striker, Lotfi Machou to head the ball clean past the City FC keeper taking the score to 1-1 where the match stayed till the half time whistle.
The battle for the win continued into the second half as both teams came out with the same stamina and drive to win, however du LaLiga HPC lead the possession and kept the pressure on City FC. A poor tackle in the City's by Max Foster in the penalty box gave the du LaLiga HPC a penalty 66 minutes into the match. Unphased by the pressure, Mohammed Haytham stepped up to the ball and planted it into the back of the net, putting du LaLiga HPC in the lead. The battle continued to the final whistle with City FC trying everything possible to get past the du LaLiga HPC's defense but were not able to score.
The match ended with a 2-1 victory to the du LaLiga HPC, crowning them the top Academy in the UAE for the second year running. This finished off a stellar season for the team, reflecting their level of play and the intensive year-long training they receive at the hands of LaLiga coaches at the du LaLiga High Performance Center.
The UAE FA Academy League is the nation's official league for club academies and private academies, raising the bar on youth football across in the UAE. The U16 & U14 categories will continue to battle it out in the coming weeks with final matches scheduled for 14 April 2018.