CAF Champions League
Draw in Mali didn't come easy for MFM, says Jonathan Zikiye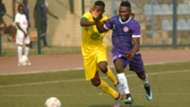 Jonathan Zikiye says MFM's 1-1 draw against AS Real Bamako in the Caf Champions League 2018 opener did not come easy for them in Mali.
Mohammed Camara's 17th-minute strike cancelled out Akinyemi Nojeem's opener as the hosts ensured they escape a home defeat against Fidelis Ilechukwu's men in the tough encounter.
And the defender, who replaced a injured MFM striker, is pleased with the forward role and is confident of a winnable reverse fixture against a strong Real Bamako in Lagos.
"It was our first game in the Caf Champions League and it was really tough for us but we are happy with the draw," Zikiye told Goal.
"The pressure all through the match was really tense and getting a draw did not come easy for us because we really had to fight for each other and as a unit.
"We knew that it was going to be difficult for us but we have a great team and so much confidence in us as we have strong feeling we get something out of it.
"It was important for us, that why we scored first and could have come gotten a victory but that could not happen. Anyways, it was a great joy for us getting a draw from such a tensed game.
"Yes, it was meant to be in-house matter but I'm quite surprised how you found out. We came in when our attackers were injured. However, it is a great feeling for me to know how important I was in the team.
"Real Bamako are no pushovers and are a very good and young side like us. For the return leg, we hope to play for each other and get a good result to qualify."
With the draw in Mali, MFM need a 1-0 win or 0-0 draw to secure a passage to the next round of this year's Caf Champions League.