Super League
Discuss a payment plan - FMLLP tells off Kelantan
11:53 AM GMT+4
01/06/2017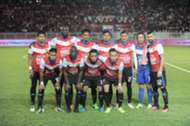 ---
BY        ZULHILMI ZAINAL       Follow on Twitter
---
Following Kelantan advisor Tan Sri Annuar Musa's accusations of M-League organiser Football Malaysia LLP's (FMLLP) supposed bias towards the side earlier this week, FMLLP on Thursday has hit back at the Red Warriors' handling of the punishment they received from it.
Earlier this week, FMLLP issued a statement reiterating its stand that Kelantan will be denied from registering new foreign players in the current transfer window, if they cannot prove that the signings are made in order to reduce its spending and start paying its debts.
Annuar immediately went on a rant on his Facebook page, claiming that FMLLP is biased against the East Coast side, claiming that it is out to get them.
FMLLP on Thursday issued another statement, highlighting T-Team and Perlis as examples of teams which, alongside Kelantan, had also been hit with six-point deductions and transfer embargoes for failing to settle their players' wages or documentations regarding wages, but had the deduction slashed to three and embargo lifted, when they issued the proper documentations and appealed their cases.
"After going through the teams' appeals, FMLLP then lifted T-Team and Perlis' transfer embargoes and reduced the deductions from six points to three, while ATM's case is still being reviewed," it stated.
But according to FMLLP, Kelantan have made no attempt to communicate with it and the other relevant parties regarding the punishment, and have not submitted the required documents.
"On the matter of KAFA (Kelantan FA) which is facing financial issues, they should have been in touch with FMLLP to clarify the matter, after which FMLLP will definitely assist and assess their case. However, KAFA has not shown any effort to resolve the matter.
"KAFA should also discuss the matter of a payment plan with KWSP (Employees' Provident Fund), Perkeso (Social Security Organisation) and LHDN (Inland Revenue Board), after which FMLLP will evaluate the matter," it instructed.