Manchester United
Dier? Fabinho? Matic? Which Man Utd holding midfield target would be the best fit for Mourinho?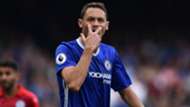 ---
COMMENT
---
With a deal for Victor Lindelof already done and interest being stepped up for the likes of Alvaro Morata and Ivan Perisic, Manchester United are not messing about in the summer transfer market.
Just about every area of the field is being addressed by Jose Mourinho, with the Portuguese eager to ensure that no stone is left unturned.
The time for excuses, it seems, is over.
Ronaldo failure could make Utd look silly
After what had gone before him, Mourinho was always going to be given time to get things right, but expectations remain as high as ever at English football's most successful club.
Three trophies in 2016-17 have helped to lift the post-Sir Alex Ferguson mood and get United back into the winning habit, but more is demanded rather than merely longed for.
Mourinho has to push his side back into Premier League title contention, and that has to happen in 2017-18.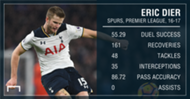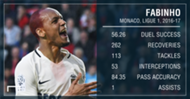 His track record suggests that one season is normally enough for him to get his eye in and know what is expected to challenge for domestic dominance, with the immediate success enjoyed during a first stint at Chelsea and with Inter in Serie A complemented by league crowns in his second year at Real Madrid and after returning to Stamford Bridge.
He knows what pieces are required to complete the jigsaw and has made the powers that be at Old Trafford aware of where to find them, stating immediately after a Europa League triumph in May: "Ed Woodward has my list, what I want, what I would like for more than two months. So now it's up to him and the owners."
United are working their way down said list and have arrived at the section titled 'holding midfielder'.
Man Utd in clear over Pogba deal
Mourinho has moulded teams around such figures in the past, from Costinha and Claude Makelele to Sami Khedira and Nemanja Matic.
The last name on that roll of honour is back in the Portuguese's thoughts, with United turning their attention towards a domestic rival as they mull over their options and dust off the chequebook once more.
The Red Devils saw Ander Herrera thrive in a more defensive role in 2016-17, with his dogged determination shaped to make the most of the bite he can offer in the middle of the park.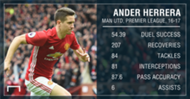 A partner in a crucial area of the field would be no bad thing, though, with it becoming fashionable in modern football to put two water carriers in front of a defensive unit which frees up more forward-thinking talent to fully express itself.
In United's case, that could mean Paul Pogba shaking his shackles, with the likes of Juan Mata, Anthony Martial, Henrikh Mkhitaryan and potentially Morata, Perisic, Andrea Belotti or Romelu Lukaku causing havoc in the final third.
Matic is, however, not the only name being heavily linked with a move to Old Trafford.
Tottenham's Eric Dier is said to be another option, with £50 million valuations being mooted, while Monaco's Ligue 1 title-winning exploits have made them a favoured destination for bargain hunters, with Tiemoue Bakayoko and Fabinho now much sought-after assets.
Juve wants Darmian to replace Alves
Any of the above would likely be welcomed with open arms by Mourinho as he seeks to tick another important box.
The French top-flight may not be as competitive as its English equivalent, but Fabinho and Bakayoko offered enough last season to suggest that they are more than capable of holding their own in any company – besting Herrera when it comes to duels, recoveries, tackle success and goals.
Dier only tops the Spaniard in terms of goals scored – hardly an area of great importance and only by two to one – but he is home-grown and a full England international who is only going to get better at 23 years of age.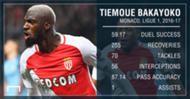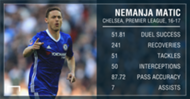 Matic, meanwhile, had to share game time with Cesc Fabregas at Chelsea, but still caught the eye – with his assist tally particularly impressive and an area of his game that will aid his appeal to Mourinho, a man who already knows plenty about him.
The Serbian may end up being the best option.
Talking Spurs into parting with Dier will be difficult, while Fabinho and Bakayoko are drawing admiring glances from elsewhere.
That interest could actually work in United's favour, with Chelsea among those believed to be looking at Bakayoko.
Were they to land him, then the path would be cleared for Matic to head north for a reunion with Mourinho.
The way United are going about their business this summer it is unlikely that he would be the final piece of the puzzle, but he – or any alternative that operates in a similar role – would be another sensible signing and a step in the right direction for a club looking to put down several sizeable summer markers to their rivals.