Premier League
Vertonghen lauds 'very special' Tottenham team-mate Dembele
Tottenham defender Jan Vertonghen believes team-mate Mousa Dembele is one of the best midfielders in the Premier League, labelling him a "very special player".
Wenger calls for support from fans
Dembele has started 15 Premier League games this season and has forged a strong partnership with summer arrival Victor Wanyama, helping Spurs climb to second in the table.
While Dembele has received some praise for his performances for Mauricio Pochettino's side this term, Vertonghen does not believe the 29-year-old has been given the credit he deserves.
"I don't think people know how good Mousa is," Vertonghen said. "He's a special player and I can't think of anyone else who is a bit like him. For me, he's up there with the best two or three midfielders in the league.
"He's a very humble guy, that's one of his main characteristics. He's a very special player and I certainly prefer to play with him than against him.
"You can ask every single player in the team and I don't think you can describe how good Mousa is. You can only know if you play with him or against him, see him train for a couple of weeks, then you'll find out."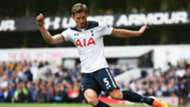 Vertonghen revealed how his relationship with Dembele started as a teenager and blossomed at club and international level.
"I first met him when I was 12," he added. "I went to Antwerp to play for a team (Germinal Beerschot) and he played for the same team. I played for that team until I was 16. We weren't really friends then, we knew each other and you know, he's a good guy.
Koeman denies Barca shortlist claim
"I then saw him again in Amsterdam. When I was 16 I moved to Amsterdam to play for Ajax and when he was 18 or 19, he came to Amsterdam to play for AZ Alkmaar, which is close to Amsterdam. He lived 100 yards away from me, I knew him, I stopped by his house and that's how it all started, in Amsterdam.
"We met again in the national team a year later when I was 20, he was already playing for the national team and that's where we really bonded. Then he came here! He came here a couple of weeks later than me and we got close. Our girlfriends are both from Amsterdam. He became a father, I became a father and all these things helped us to get closer and closer and he feels like a friend for life."