Roma
De Rossi was prepared to leave Roma for 'big European club or MLS'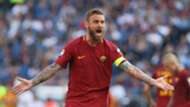 Daniele De Rossi has conceded that an enticing offer from a "big European club" or from MLS would have seen him leave Roma over the summer.
An iconic figure in the Italian capital, De Rossi has spent his entire career to date at Stadio Olimpico.
With Francesco Totti having departed and headed into retirement, the 34-year-old midfielder is now the longest-serving presence at his hometown club.
De Rossi did, however, only commit to a new two-year contract in May and admits that he considered taking on a new challenge as his previous deal ran down.
One offer from a Serie A rival was tabled, amid links to Inter, but the World Cup winner eventually opted to stay put as nothing suitable was put to him.
De Rossi told Corriere dello Sport on whether he now hopes to retire at Roma: "I don't know. I always thought it'd be great if I could, with all due respect and the correct proportions, experience a day like the one Totti had on May 28 when he retired. It'd be wonderful to experience such an intense salute with the fans. I don't know when and I don't know how.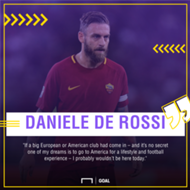 "At the same time, I do feel the strong desire to have an experience elsewhere. Frankly, 16 years at Roma is like 32 elsewhere, because they really weigh on you and are a tough slog. Thank God, I am physically having the best seasons of my career, but the pressure is often excessive here.
"I think I would, and ought to, have an experience elsewhere. I had already decided to do it last year, as for long periods there was no contact with the club over my renewal.
"It wasn't too bad in my view: I was playing well, so would leave a happy memory. For a while, it was my plan to leave. The biggest offer on the table was from another Italian club.
"However, my heart and love won out: I couldn't betray the city and the fans. If a big European or American club had come in – and it's no secret one of my dreams is to go to America for a lifestyle and football experience – I probably wouldn't be here today."
De Rossi netted five times for Roma last season – his best return in seven years – and has remained a regular this term as his overall appearance tally continues to edge towards 600.