David de Gea
De Gea wants 'bigger and better' from Man Utd after failed title challenge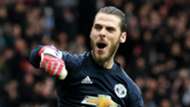 David de Gea has admitted this season has "not been enough" for Manchester United and urged the club to aim for "bigger and better things" by mounting a real challenge for the Premier League title.
Despite winning the Europa League and League Cup last season, Jose Mourinho's side have had a rough 2017-18, as they sit second in the Premier League - 16 points behind Manchester City - and were eliminated from the second round of the Champions League.
The Red Devils are in need of an FA Cup final win against Chelsea this month to end the current campaign with silverware, and although De Gea wants a strong finish, he is turning attention towards addressing many of their issues ahead of next term. 
"It has not been quite enough this season," he told Sky Sports. "Fair enough we are battling to hang on to second place and hopefully we will fire until the final game to ensure that happens, but we have not managed to win our initial target which was to win the Premier League title.
"That is what we are all here for, that is what the players at the club want and also to give a good account of ourselves in the Champions League but we have also not managed to do that. Obviously the FA Cup is very important, a nice trophy to win, and we are going all out to win that. But it is not quite enough - we are Manchester United and have to aim for bigger and better things. That has always got to be our focus.
"We are here to try and win trophies. The fans and people at the club deserve better and that is what we have to do - fight to win big trophies.
"Next season is a new season and we have to improve in a number of areas. We have to fight to be involved at the end of the season. It is not just Manchester City we will be challenging next season, five or six teams fight for the Premier League. It is a case of hard work to be in there at the wire."
De Gea was named United's Player of the Year for the fourth time after another campaign full of excellent individual displays and feels he has blossomed into a different person since joining in 2011.
He added: "I'm very happy. It's just incredible. Initially, you don't imagine yourself winning even one of these trophies but now to have won four is just fantastic. All I can do is thank the fans, thank my team-mates and thank them for the affection they have shown me over the years.
"Maybe it's better if a striker who has scored a load of goals wins it or maybe a midfielder wins it on occasions, but that's football. I think football is evolving and I think the role of the keeper is becoming more and more important in the game in general. That's just the way it's turned out this year. Maybe next year, let's hope a striker can win it perhaps.
"I was a young lad [when I came here], new on the block coming from a different country to a different culture. I didn't speak the language and everything was different; the food and the culture. It was tough and there were some difficult moments, but what I never did was give up the faith I had in myself.
"You've got to trust in your own ability, back yourself and the main thing is work really, really hard and fight to improve. I think looking back and at the person I am today, I'm a better goalkeeper for it and more mature as a person. In terms of a player and person, I'm a much different David de Gea."