Kaizer Chiefs
Daniel Cardoso reveals why Kaizer Chiefs players struggled under Giovani Solinas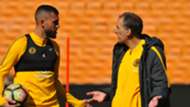 Kaizer Chiefs defender Daniel Cardoso has revealed how Italian coach Giovanni Solinas demotivated them as he would regularly chop and change the team..
"If you remember in every game there were six or seven changes in the line-up, and you can't get the consistency like that. As a player, you grow in confidence when you play… (under Solinas) you'd play two games and do well, but then in the next three you are out and wondering what you did wrong," said Cardoso to the media.
"And then he would tell you he is resting you and protecting you. I don't think he had much of a plan. We'd be on the training grounds for three hours running against mannequins – there was no structure," said the centre back.
With Solinas having been sacked by Chiefs in December 2018 and replaced by Ernst Middendorp, Chiefs are now set to face Magic FC in the Nedbank Cup Last 16 match in Port Elizabeth on Sunday.
"The (club's) badge should be a motivation but when a coach changes players like that it gets hard. He used Khama and (Leonardo) Castro in every game but what was that saying to the other players?," he continued.
"Apparently Khama was the 'Messi' of South Africa for Solinas. And I think that got to him (Khama) as well and he thought he was the greatest," he added.
"Look Khama is a great striker, don't get me wrong but you can see we went through a deep in form and he is now trying to recover. I think it was a case of giving too much confidence to one player and nothing to others," said the Bafana Bafana defender.
"You can't put it all on one player's shoulders, it's a team. We are not playing tennis or chess, it's a team sport, unfortunately. For us we couldn't question him, he was the head coach," added the 30-year-old.
"But bowing down to a player in front of the crowds and other players, it gives him more pressure because he knows he has to perform in every game and it's not every day that you can perform something, it can't happen," he concluded.