South Africa
Da Gama explains why Lars Veldwijk didn't feature for Bafana Bafana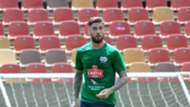 Stand-in Bafana Bafana coach Owen Da Gama called up Belgium-based forward Lars Veldwijk for the two international friendly matches.
However, the 25-year-old failed to break into the starting line-ups for the two matches despite making the bench.
Much was expected of the Dutch-born South African striker when he was initially called up by former coach Shakes Mashaba, but his performances in the Bafana jersey has been uninspiring.
In the aftermath of Tuesday's goalless draw against Angola, Da Gama stated that Veldwijk is low on confidence due to his lack of game time at Belgian club KV Kortrijk.
"He's low on confidence, and you can see it," Da Gama told the media.
"His club coach (at KV Kortrijk) has just been fired and a new one has come in," he said. 
"The relationship between him and the previous coach was not a very good one. I think Lars has got a big knock on his ego and he isn't the same player we saw banging in the goals when he was in Holland (at PEC Zwolle)," Da Gama added.
Da Gama also believes that calling up Veldwijk to the national team may be a boost to his confidence.
"Lars needs his confidence back, but it's more important for him to understand that he is part of us," Da Gama said.
"Maybe if we keep calling him up that will help and his new coach will take him seriously because he plays for his country," Da Gama concluded.