World Cup
Cristiano Ronaldo's free kick mentor reveals how he moulded Portugal & Real Madrid star's technique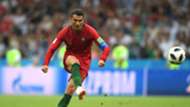 "Put your feet right here, take these three steps, wait for the right time and make the goalkeeper anxious."
Little did Cesar Prates know that, when he passed those simple words of advice on to an impressionable 16-year-old team-mate, he would shape the career of one of the world's most iconic players.
The sight of Cristiano Ronaldo's long free-kick routine and his deadliness from certain distances have made set pieces a trademark of the Real Madrid and Portugal talisman.
Like the countless others in his arsenal, it is a skill the 33-year-old has mastered after years of practice, but he owes some of the credit to his old mentor, who showed him how it's done.
"As a boy, he was obsessed with physical exercises the same way I was," former Brazil right-back Prates told Goal as he looked back on a successful time at Sporting. 
"And destiny brought together these two guys. But I'm not responsible [for him]. People say that I taught Cristiano [how to take free kicks], but I didn't. I heard him saying he was going to be the best in the world, and that made a mark on me.
"His kick is better than mine was. The one who taught me how to take free kicks was Dorinho, at Internacional: 'Put your feet right here, take these three steps, wait for the right time and make the goalkeeper anxious'. I received all this advice for free, so I'm passing them on for free. It's my legacy.
"My wife said to me that we look exactly the same before taking free kicks, but it wasn't I who taught him. I just showed him how I did it."
The two spent a lot of time together after training and built up a good relationship before Ronaldo left to join Manchester United while Prates went to Galatasaray in 2003.
"My relationship with Cristiano was a very nice one, like the ones he has with all the Brazilians," Prates, who represented 15 clubs in five different countries as well as Brazil's national team in a 26-year long career.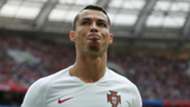 "He was in the youth teams and was a Sporting supporter. When he was 16, he started training with the senior squad and after that we used to train a little more together.
"When the training session was over, we used to stay there on the pitch to play with the ball. He didn't believe I was good enough with the ball because he thought that, as a defender, I didn't have the necessary ability to play in attack. 
"But I proved him wrong, and used to joke: 'Everything I do, you must do as well', and vice-versa. We became friends.
"During our conversations, always related to football, Cristiano told me one thing I can never forget. He told me: 'I'm going to be the best in the world, mate'.
"We didn't know he would go on to be the best five times, but he is the best and has proven that during this World Cup in only two games."
After seeing the 33-year-old blast a spectacular free kick past Spain goalkeeper David de Gea in the World Cup, Prates must have been brimming with pride, and knows what he would say if he met his former protege again.
"If I had the opportunity to talk to him, I'd hug him to say it was worth it to pass on the little that I could to him, and that he made it better and is the only one responsible. Because he believed in himself."