Spain
Conte shows Spain value of a top coach - but no elite managers want Del Bosque's job
12:00 PM GMT+4
29/06/2016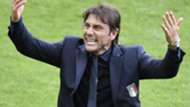 ---

COMMENT
---
The Vicente del Bosque era is over. The Spain coach has yet to officially announce his decision to leave, but it is no secret that the 65-year-old will walk away after his side were beaten by Italy in Paris on Monday. The problem now is finding a quality replacement.
Spain's Football Federation (RFEF) have known for some time that the former Real Madrid boss would be leaving, yet it still seems there are no plans in place to bring in a successor - and most of the big names are either not interested in the position or have just changed jobs.
Del Bosque was a passive presence on the bench at the Stade de France as La Roja lost to an Italian team with inferior players but a younger, more passionate, more dynamic, intense and shrewd tactician in Antonio Conte.
The former Juventus boss showed Spain the value of a top coach as he helped his side win the match with a tactical masterclass. And with rebuilding now needed after a second successive disappointment at a major tournament, La Roja require something more than a father figure like Del Bosque.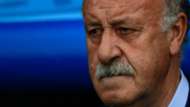 The options, however, are few and far between. Barcelona boss Luis Enrique has said he would like to coach Spain in future, but not now. And that is precisely the problem. For a top-class manager, the chance of coaching Spain - or any national team for that matter - is not attractive when they can take their pick from Europe's elite clubs.
Pep Guardiola is probably the best there is and he has said that he would like the experience of coaching a national team at some stage, but he is keen to focus on his club career for now and has just moved from Bayern Munich to Manchester City. Due to his Catalan roots, it is also unclear whether he would be willing to lead Spain anyway - even though he represented the nation as a player.
Unai Emery has just joined Paris Saint-Germain, Paco Jemez has moved from Rayo Vallecano to Granada, Rafa Benitez has signed an extension at Newcastle, while Ernesto Valverde is happy at Athletic Bilbao and Marcelino Garcia Toral is unlikely to leave Villarreal.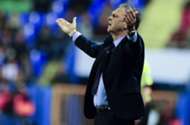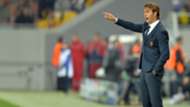 The RFEF want a Spanish coach, but federation chief Angel Maria Villar has been standing in as acting president for the suspended Michel Platini at Euro 2016 and has his mind on the top job at Uefa.
In the meantime, the favourites to succeed Del Bosque as Spain coach are Joaquin Caparros and Julen Lopetegui in a list that also includes Pepe Mel, Michel and Roberto Martinez, while even Jose Antonio Camacho has been mentioned as a possibility.
Caparros was successful at Sevilla, laying the foundations for Juande Ramos to enjoy success at the Sanchez Pizjuan, but was less popular at Athletic and has done little since then, losing more games than he has won in La Liga. He is also a very defensive coach who does not seem to fit Spain's style.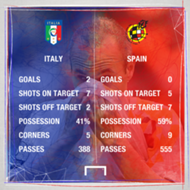 Lopetegui, meanwhile, was sacked by Porto after losing out to Benfica in the Portuguese championship. He is highly thought of, however, after successful spells with Spain's Under-21 and U-19 teams. He is, at 49, also a much younger man than Del Bosque.
The other options appear even less attractive. Mel has been sacked twice by Betis, Martinez was a failure ultimately at Everton with a terrible defensive record, while Michel proved a disaster in France with Marseille and Camacho has been out of the picture for a number of years and has already had the job once anyway.
Conte, in any case, is the exception. A young coach with great pedigree, he took the unusual step of coaching his country in his prime (he is now 46) and he will be replaced this summer by a veteran: 68-year-old Torino trainer Giampiero Ventura.
Ventura has never coached a top team and that is a problem the next Spain boss will likely have as well. So while La Roja still possess some of the world's finest footballers, finding a man who earns their respect and who is up to the standard they expect may be an impossible task for the RFEF this summer.
Because no elite coaches want the job - at least not at the moment.
Goal journalists are powered by the Samsung Galaxy S7 and Gear 360