WC Qualification CONCACAF
CONCACAF Watch: The ties that bind teams ahead of March's World Cup qualifiers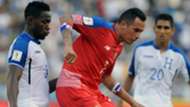 We're not so different after all.
Sure, CONCACAF World Cup qualification sees countries from three different subregions competing for the same prize, one of three guaranteed spots in the 2018 FIFA World Cup in Russia. And, yes, the culture — both sporting and otherwise — can be quite diverse. But when we look at the trio of games that get qualification rolling again after the first two matchdays, there are plenty of similarities among the six nations still remaining in the hunt for tickets to Russia.
Meet Mexico's 16-year-old sensation
Ahead of Friday's games, which see Trinidad and Tobago host Panama, Costa Rica traveling to Mexico and the United States meeting Honduras in California, let's take a look at a few ties that bind the Hexagonal matches together ...
---
Must-wins for home teams
---

It's time for all three teams hosting games Friday to get serious. Of the three, only Mexico sits in the qualifying spots, though El Tri are happy to have four points from two away matches. Still, with the next two qualifiers coming amid a very busy summer slate, Mexico will feel the need to get three points from its clash in the Estadio Azteca with Costa Rica.
Trinidad and Tobago hosts both matches this time around, and new coach Dennis Lawrence will be looking to get his squad off to a good start. But with Mexico looking like a difficult opponent for anyone in the Hex, the first game against Panama is the best chance for the Soca Warriors to get their first points of qualification. Lawrence is leaning on a side with 13 domestic-based players and faces a daunting challenge to get a result out of either game, and two home defeats would spell an early end to T&T's hopes of getting back to the World Cup.
And the U.S. would also be in a big hole if it drops its second home game of the cycle. After losing 2-1 to Mexico in Columbus, Ohio, it's Honduras visiting next. While Los Catrachos dropped an important result to Panama, Andy Najar's return to the team could be a big boost for the attack. Still, the Americans have the talent advantage despite injury and should be able to pick up the win. If not, a tough trip to Panama will get even more uncomfortable.
---
Injuries forcing giants to make changes
---

The three teams favored to qualify directly for the World Cup are favored for a reason. Costa Rica, Mexico and the U.S. have the deepest teams in the region and have leveraged that to recent successes — Costa Rica making the quarterfinals the 2014 World Cup, Mexico winning the Gold Cup and CONCACAF Cup that followed, and the U.S. by topping qualification in the last cycle.
All three are having that depth tested by injuries in this group of games. Mexico has several attackers missing, with Giovani dos Santos, Hirving Lozano, Javier Aquino, Jesus "Tecatito" Corona and Marco Fabian out because of injuries. A leg injury will keep Andres Guardado out as well.
The U.S. also has taken a hit, with Fabian Johnson, Bobby Wood and DeAndre Yedlin the would-be starters who are sidelined.
And Costa Rica must make do without Oscar Duarte, the Espanyol center back who was set to return after missing the first two games but suffered an ACL tear in last weekend's draw with Eibar and will miss the rest of the season and more.
"God knows why things happen. Now I'm going through several months without being able to enjoy what I like the most. Thanks for the messages!" Duarte tweeted.
Dios sabe porqué pasan las cosas. Ahora me toca pasar unos meses sin poder disfrutar de lo que más me gusta  ¡Gracias por los mensajes!  pic.twitter.com/CRuTKdWfNq

— Oscar Duarte (@ODuarte04) March 18, 2017
What sets these teams apart from many in the rest of the region, though, is their ability to cope with these sort of issues. While losing a star player would spoil other nations' plans, these teams may be able to overcome the absences.
Mexico can rely on Tigres winger Jurgen Damm, Porto defender Miguel Layun or Real Sociedad forward Carlos Vela to provide width, while Chivas midfielder Orbelin Pineda can start next to Jonathan dos Santos in the center if Juan Carlos Osorio wants to play two centrally.
Costa Rica will use three center backs but getting Duarte back was going to be a bonus. Giancarlo Gonzalez is set to return with Michael Umana and Johnny Acosta also ready to reprise their roles in the middle from wins over T&T and the U.S.
The situations aren't ideal, but the alterations teams make will show the teams' status as the class of CONCACAF.
---
'Old reliables' still present
---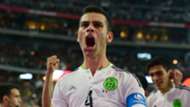 Even with the raft of injuries we talked about above, there are still players on all the Hex teams' squads who have been here before. Really, most of them have seen it all before. They're familiar faces like Mexico's Rafa Marquez, who is now 38 years old and still may be the fulcrum for Mexico against Costa Rica. 
Against the U.S., Honduras may start a 36-year-old goalkeeper (Donis Escober) with a man four years his junior in defender Maynor Figueroa wearing the captain's armband as a starting center back. It's not as though the U.S. will have spring chickens out there, though. Tim Howard will start in goal for the Americans at age 38, while 35-year-old midfielder Jermaine Jones, 34-year-old forward Clint Dempsey and 34-year-old left back DaMarcus Beasley all could start.
What we learned from Liga MX Round 11
Panama could flip the "old goalkeeper, slightly younger field player" formula for its trip to Trinidad and Tobago and start 36-year-old forward Blas Perez with 34-year-old Jaime Penedo behind him. And it'll face a T&T side that recently has seen 38-year-old Carlos Edwards earn recalls.
The point is not that there are a lot of veteran greats still sticking around in CONCACAF who are critical to their teams. It's not even that these teams haven't done a good enough job grooming young talent. It's that these players are still vital members of their national teams, acutely aware this is their last chance to qualify for and play in a World Cup.