MLS
Columbus Crew boss takes swipe at journalists over Mensah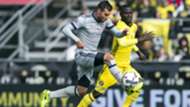 Columbus Crew manager Gregg Berhalter is happy with Jonathan Mensah's positive response to "negative" media criticism in Major League Soccer.
Following some disappointing initial performances characterized by poor showings, sending offs and injury, the Ghanaian, who joined the Black and Gold in February, is evidently getting into his stride at MAPFRE Stadium.
He put up splendid displays against Chicago Fire, Orlando City and LA Galaxy in recent games and went a notch further to register his first MLS goal in a 2-1 win over FC Dallas on Saturday.
"I think for all the negative things that have been written about his performances, it would be nice to see some positive things written because the last couple of games, he's been absolutely outstanding and getting a goal was important," Berhalter told his club's official website.
"To me, it's more about the performance. He was really solid this whole week.
"The first thing is that, it does take people sometime to adapt to the league - centre backs especially. 
"So, from that standpoint, he needed some time to see what the referees were going to call and see the intensity of the game. 
"As he did, he hung in there, he was able to deal with the negative criticism that was coming and I think that made him stronger. 
"You see now, his confidence is beaming and he's performing at a high level."
Mensah's good showing against Dallas and Galaxy earned him a place in the MLS team of the week.
The 27-year-old, who was signed from Russia club Anzhi Makhachkala, is currently on international duty as Ghana take on Congo in a double-header in 2018 World Cup qualifying.