Ghana
Coach explains why Gyan didn't pass on captain's armband
12:45 PM GMT+4
12/06/2017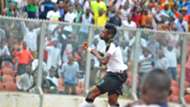 On Sunday, Ghana overwhelmingly hit five unanswered goals past Ethiopia in their 2019 Africa Cup of Nations qualifying opener, but rather incredibly, the post-match has focused on anything but their five-star display.
In the 65th minute, skipper Asamoah, who netted to reach 50 goals for the Black Stars, failed to pass on his armband to deputy Andre 'Dede' Ayew following the Al Ahli forward's substitution.
With the two players countlessly reported to have a bad blood between them over the captaincy, several meanings have been read into why Dede was forced to go for a completely different band from the bench upon Gyan's withdrawal.
"What happened was the captain's band was customized with Gyan's picture," Coach Kwesi Appiah told pressmen after the game.
"We are all aware of [the customization of the armband]. 
"In case Gyan is being changed, we cannot give the customized armband to Dede.
"The idea was [that] in case Gyan is being changed during the game, we need to give Dede the original one.
"It is allowed," Appiah said in conclusion, when asked if armband customization is allowed in football.
However, per Fifa's equipment regulations, the "Captain's armband shall remain free of, and shall not produce, in Fifa's discretion, the visual effect of a Manufacturer's Identification, a sponsor, any Decorative Element or further elements, except for the word 'captain' or an abbreviation or translation thereof".
Tweet pic clearly showing the customized armband: 
Asamoah Gyan's customized captain's armband, which has taken the shine off Ghana's 5-0 win over Ethiopia. Pic: Images Image pic.twitter.com/uqMXBcypKs

— Prince Narkortu Teye (@TeyePrince) June 12, 2017