Premier League
Chelsea team-mates teased me before my free-kick goal, says Marcos Alonso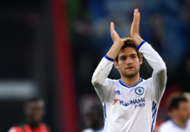 Marcos Alonso admitted that his Chelsea team-mates were joking with him ahead the free-kick that sealed a 3-1 victory over Bournemouth at the Vitality Stadium.
Barkley told to sign or be sold
His 68th-minute free-kick helped seal victory as Chelsea struggled early in the second half, with their opponents pushing hard for an equaliser. 
The 26-year-old's goal was his fifth of the season, with his family in attendance among the Chelsea supporters. Alonso admitted that his team-mates were teasing him because his recent attempts kept hitting the woodwork since he took over free-kick duty. 
"Yeah, I hit the post twice already [in previous matches]," Alonso said. "When I took the ball, everyone was saying, 'Please, one inch lower…' 
"I was very happy because it was the goal which gave us the peace to relax and make the game more comfortable. So happy for that and hopefully more to come."
Since November, no Premier League defender has scored more goals than Alonso's five, including strikes against Arsenal, Everton and Leicester City. 
Chelsea are seven points clear with seven games remaining in the Premier League, and Alonso admits he is struggling to pick a name out from his Chelsea team-mates for Player of the Season honors. 
"It's going to be tough," he said. "Diego [Costa], Eden [Hazard], they are having great seasons, scoring so many goals, tough choice that. I'm very happy for that. Everyone tries to give 100 per cent for the team. If you can help with goals or assists then it's even more important.
"That's what we all try to do. It was a very good game from everyone and good to go back to London with three points."
Diego Costa misfired once again against Bournemouth, which has led to his longest spell without a goal in a Chelsea shirt. But Alonso isn't worried, saying the striker might even get a goal against Manchester United on Sunday. 
"He had another couple of chances to score but no doubt next week he'll be there again," Alonso said.