Premier League
Chelsea loanee Hector: I could've been selling trainers in JD Sports!
12:00 PM GMT+4
09/02/2017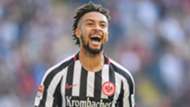 ---
EXCLUSIVE
---
Michael Hector struggled to find a professional club after he was dropped by Millwall as a youngster, but after a spell in non-league football he got a second chance at Reading. He then earned a move to his boyhood club Chelsea, but he is now on loan in the Bundesliga – a chain of events that reads like a career in New Star Soccer.
The 24-year-old moved to Eintracht Frankfurt in the summer and has started in games against both Borussia Dortmund and Bayern Munich as he aims to impress people in both Germany and back home. 
Only Messi and Ronaldo better than Eden Hazard, says brother Thorgan
Between his career at Reading and Chelsea, Hector has been on loan at a staggering thirteen clubs, with Reading loaning him out at five non-professional sides as a youngster. Hector believes that almost missing out on full-time football has made him determined to stay focused on getting to the top of the game.
"It has been a crazy journey," he said in a chat with Goal at the Commerzbank-Arena. "I was released young, going to non-league then going to Reading. I could look back [and say] that I could be working in Footlocker or JD Sports and have a completely different life. 
"I was going to go to America for studies and I helped my dad with coaching in schools. So maybe I would have done that [if Reading didn't come along] or go to university. I always wanted to be a footballer, like most young boys, and before I signed for Reading I was coaching tennis. 
"It was surreal to be signed at 16-17 at Reading and now to be playing in the Bundesliga, but there's still a long journey to go. It helped me because there are going to be setbacks - this is football. 
"To be perfect means you are Cristiano Ronaldo or Messi and even they get setbacks. You can't be perfect always and I've understood that in my career. There are good times and low times, so focus on your goal that you want to achieve."
Desailly tells Terry his time at Chelsea is up
Hector is a lifelong fan and the move to Chelsea was a dream one for him, but he was sent out on loan to continue his development to prove he deserves a chance at Stamford Bridge. 
The London-born defender had never been to Germany ahead of the offer from Eintracht, which Chelsea received as he went on their pre-season tour of Austria, and Hector revealed that his old Reading team-mates helped him to decide on the move abroad. 
"I had never even been in Germany before Eintracht came along," Hector added. "People were surprised about me coming out here to play in Germany, but I feel if I can play in as many leagues, cultures and countries in my career, then I can get benefits and I am getting on a bit now.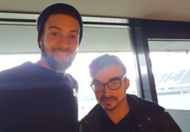 "I went to Scotland, Ireland and now here. It makes me more of a man and it helps my game. I learn different techniques and learn how to deal with different situations. I am a professional footballer. It has been a good journey to experience all these different types of ways to play football. 
"Danny Williams played in the Bundesliga before he came to Reading and I actually spoke to him when I was thinking about coming out here. He said to go because it's a special club. 
Chelsea keeper Begovic admits lack of playing time 'bugs' him
"It has got a lot of history and he knew one of the players from America and he said 'yes, it a special place'. Compared to lots of other cities in Germany it is really multicultural. 
"It has a nice skyline and everything you need. [Garath] McCleary and [Nick] Blackman watch the German league anyway and they are going to come over when they can. 
"My family watch me on TV, but they often come to the big games and I have played in them. My old kit man at Reading came to one of my games so it has been good - and I think a few of my old team-mates will come up when I have a game on a Sunday.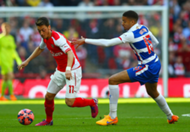 "My friends enjoy it - they said the atmosphere was surreal here and the hospitality is very good. The flights are every hour to London, so it's good for friends and family."
Hector's loan move to Aberdeen proved to be a defining one in terms of his chances at Reading and he will hope his move to Eintracht will have a similar effect.
English-based players have traditionally not moved abroad, but Nathaniel Chalobah's loan move to Napoli has helped him in his breakthrough season at Chelsea and Hector believes that experiencing a different culture of football will prove valuable for his future. 
"I feel that I have improved my passing and defending, but I would have liked to have played a little more as I came to play," he added. "To play at this level [has been useful], but ultimately, I'd like to play in the Premier League." 
"Obviously a few people may have doubted that I could step up to the Premier League from the Championship [before my move], but to play in the Bundesliga in a good team, against good teams as well, I feel now that I have proven that I can play at the top level. 
"A few more games between now and the end of the season will stand me in good stead for next season and to kick on. Back home they analyse my games and have seen a step up since I was at Reading.
"The decisions are getting better and situations are improving during the game and that's why I am on loan: to improve."