Chelsea
Chelsea in ruins as Roma collapse shows Conte has big problems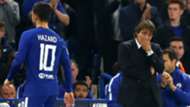 Chelsea's problems were laid bare on Wednesday night as their 3-3 draw with Roma once again illustrated just how irreplaceable N'Golo Kante is for Antonio Conte.
Blues 2/1 to fail to beat Watford
Pep Guardiola recently labelled Tottenham Hotspur the "Harry Kane team" but he could have described Chelsea as the "Kante team" as the Premier League champions have forgotten how to play without their Player of the Year from last season.
David Luiz's performance in the middle of the park was impressive but he was forced off with injury in the second half and Chelsea collapsed from two goals up as Edin Dzeko struck twice, including a wonder-volley, to make it 3-2 to the visitors.
Eden Hazard's second goal on the night was a get out of jail card as he made it 3-3 with a precise header but there are huge question marks about the fluidity and balance of Chelsea's team. The champions of last season have declined massively.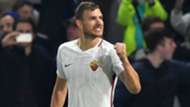 Even Thibaut Courtois' performance levels have dipped with the whole side being infected by a loss of confidence following the chastising loss to Manchester City three weeks ago.
Hazard's equaliser  has stopped Chelsea suffering three defeats in a row but it could have easily ended that way at Stamford Bridge against a side that have never won in England in this competition.
Dzeko had the chance to make it 4-3 and complete his hat-trick late on, as all of Roma's goals came from ex-Manchester City players – Aleksandar Kolarov scoring the other.
Conte must find balance for Chelsea and quickly. If they fail to beat Watford on Saturday afternoon, then they can kiss goodbye their chances of retaining their league title.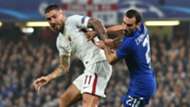 A positive note is that Conte is aware of Chelsea's problems as he admitted that his side weren't in control of the match. However, Watford will also take it as a positive ahead of this weekend's league match at Stamford Bridge. 
"I like to be honest and, for sure, I didn't like the type of football that we did for a long part of the game," Conte said. "But it's right to take the responsibility for this because I tried, on the one hand, to protect my team and make us more solid, and to move Luiz into central midfield.
"But on the other hand we lost totally our knowledge and style of football. I didn't like this. At the end I think the result was fair but, in the first half, we were 2-0 up. But we weren't in control of the game. It's right to take the responsibility for this.
"But I repeat, sometimes, you have to find the right solution to try to protect your team. Sometimes it's good, sometimes it's bad. But you know very well our situation. It was good to draw because Roma deserved this result.
"I have to praise my players because they showed me big effort, big commitment tonight, otherwise we'd have lost the game."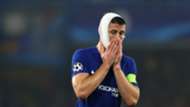 No Premier League team has ever won the title with three defeats from their opening eight games but Chelsea's bad form is spreading to other competitions. Chelsea will probably get through the group after Atletico Madrid drew in Baku against Qarabag but they didn't show anything to threaten their rivals in the Champions League.
Chelsea are in ruins and they need to be rebuilt immediately.