Chelsea
Chelsea boss Conte 'relaxed and focused' despite possibility of getting sacked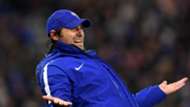 Antonio Conte isn't scared of getting sacked as Chelsea play for their most realistic chance of silverware when they face Newcastle United in the FA Cup on Sunday. 
Chelsea were recently knocked out of the Carabao Cup semi-final following a 2-1 defeat to Arsenal at the Emirates Stadium, after the first leg at Stamford Bridge ended 0-0. The Blues are also unlikely to repeat as Premier League champions, sitting 15 points behind leaders Manchester City in third place. 
Chelsea have a reputation of quickly sacking managers when they fail to bring success, having had 14 managers (including temporary ones) in 13 years since Roman Abramovich's 2004 takeover. Conte had previously said that he thinks he is doing a "fanstastic job" this season but admits that he still has difficulties to work through.  
"I can tell that I continue to work very hard for this club, for the players, for our fans," Conte told reporters at Cobham Training Ground. "I can tell this, I can tell this. But I saw a bit the history of this club. 
"In the past it was the same for the other coaches, and I don't see a difference between them and me and the other coaches that managed this situation. My task is to continue to work very hard for this club and have great respect first of all for my job and for my players, for our fans.
"Under this aspect, I am very relaxed and focused to try and do our best. If I remember the start of the season, I said maybe this will be the most difficult season for me. I think that I have a great capacity to see very long [into the future] and I think this is a great capacity I have.
"But we must be focused and put everything, every day and we have to continue to do this and know we have to face great difficulties. If you know this, you are more ready to face this type of situation.
"My only worry is to work, only to work very hard, but, for sure, if you look at the stats you can see that in 14 years [there were] 10 managers sacked at this club.
"At the same time when you are sure about your work and that you are doing everything to improve this club and to work this way with the players, under this aspect I am very relaxed, calm, very relaxed and I don't have this type of worry.
"It is right to dream [of success] and then there is the reality and you have to fight the reality to try sometimes to overcome the reality like last season and to do something special, but for sure it is not simple, not easy.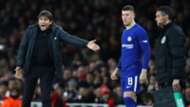 "I think that there are different times for every team to understand if you can go to fight for everything or go to work very hard. To dream but at the same time to be ready to fight for a place in Champions League or fight to try to reach a semi-final or a final."
Chelsea have struggled for form in January with the team looking tired due to the nine games in 28 days that the club faces in all competitions. 
Conte's side registered four draws, a defeat and two wins, with one coming against Championship side Norwich at Stamford Bridge on penalties. The manager admitted to struggling due to a lack of sleep after the defeat to Arsenal and spoke about what he gets up to when he's troubled at night. 
"It is not simple for sure, it is not simple but people who know me very well they know that I live this job with great passion, with great love and for this reason sometimes I don't sleep," Conte said. 
"Especially when you have to face with difficult situations and you want to try to do the best for the team, the players, the fans the club. And to play every three days, for us, it is not simple and we have to hope to have all players available.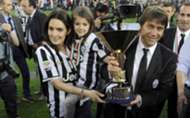 "Otherwise we have to try to invent something before the game or during the game. When I don't sleep I continue to work with the computer also because I don't want to create problems with my wife. Also because if I don't sleep, I go in another room, the living room. 
"Then sometimes I start to work, watch the game or try to find a new solution. I think to watch the game many times is important to understand positive things and negative things and to try to improve your team especially when you lose.
"For me, it is very important to understand very quickly which is the reason because we lost. I think this period is very busy and it is normal to have this period especially if you go forward in every competition.
"Don't forget that we missed only one game in the Carabao Cup and reached the semi-final, and if you compare to last season, we were out after only the second game against West Ham. Now we have the second game in FA Cup then the league then Champions League. For sure it is a busy period for us."